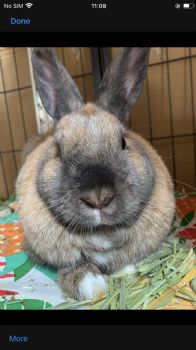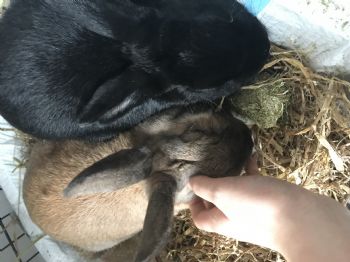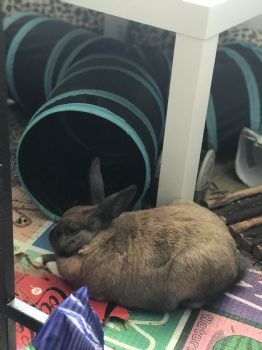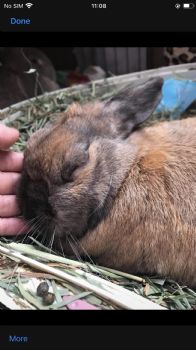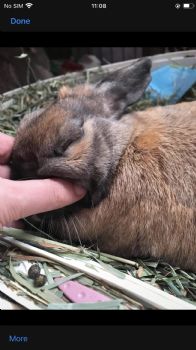 Poppy
Age: 2
Breed: Small
Sex: Female (Neutered)
Location: Lancashire
Bonded: Yes, see below.
Vaccinated: Yes
Date Added: 18/10/2021
Last Update: 23/10/2021
More about Poppy:
Description: Poppy is a sweet, sugary girl which fits her breed: Cinnamon. Cinnamons are known for being laid back, tender and wanting attention.

She is a dearly loved rabbit. She is known by many names, including: Popple, Popplecopter, Popadopolis, Wop, Waffle, big Poppa.

She loves strokes and kisses. She's been in rescues a few times and I suspect she's had bad experiences in the past, bless her. But with love and patience, she will learn to trust you and melt your heart every day.

That being said, she is not a clingy girl. I work 9-5 a few days a week and they are happy to be left as long as they are fed when I get back :) they don't get upset by me leaving.

She spends most of the day sleeping in her hideaways.

She is being rehomed due to no fault of her own. She is my cinnamon sugar girl and I adore her dearly. My circumstances have changed and I can no longer keep them, this makes me very sad and I'm keen to find them a loving home.

Mrs Poppy asks for a calm quiet space indoors.
Poppy must be rehomed with: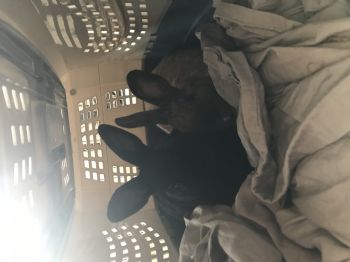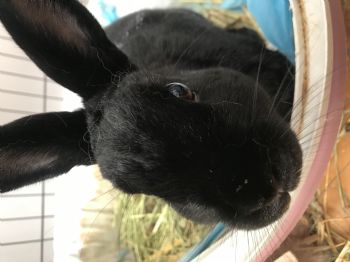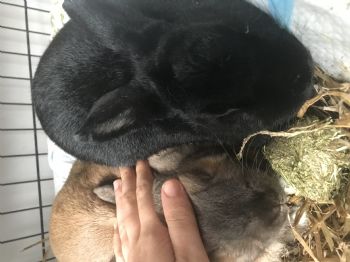 Maxie
Age: 6
Breed: Small
Sex: Male (Neutered)
Vaccinated: Yes
Date Added: 18/10/2021
Last Update: 23/10/2021
More Details:
Description: Maxie is a Havana. Havanas are known for their love of cuddles, and this is no different for Mr Maxie. Maxie adores cuddles and even makes huffing/puffing/purring sounds that will melt your heart.

Havanas are also known for their silky, velvety coat. He is a joy to stroke and groom.

This being said, he is not a needy boy. He happily spends most of his day snoozing and chilling. He is fine to be left during the day from 8-6 (as long as he gets fed either side!).

You may notice that he is an old boy, but he doesn't show it. He's full of personality.

he's been in rescue several times and I'm hoping I can find somebody who can love him in his twilight years. He's being rehomed due to no fault of his own.

Note: my gorgeous maxie boy has a bit of extra skin around his dewlap area. It's all 100% healthy and okay, as confirmed by 3 different vets. He's got extra skin but who hasn't! He still asks for you to love him all the same.

Mr Maxie asks for a quiet area to live indoors with his wife, Poppy.
How to Adopt this Rabbit
Maxie is being rehomed by a private individual. For more information please contact:
Bella
Deansgate area, Manchester
M15 5RR

Tel: 07542895972
Email: bellastatham13@gmail.com
› View all rabbits