About Rabbit Rehome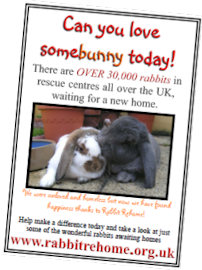 Every year 33,000 rabbits are handed into rescues centres and many more are rehomed privately. Rabbit Rehome was set up in 2002 with the goal of helping to find homes for these unwanted rabbits. Rabbit Rehome is based around an internet website which includes a database of over 600 rabbits available for adoption, a list of rescue centres, special appeals, information on volunteering, printable posters and guides to rabbit care.
How Rabbit Rehome Works
The rabbits displayed on our website are from all around the UK. Many are in rescues and some are being rehomed by their current owners. People looking for a rabbit to adopt can search our database, read the appeals or find a rescue in their local area.
We are not organising 'adoptions online' you will need to contact the rescue centre to find out about their homing policy, many rescue centres perform home checks on adopters.
Although we often help people find homes for their rabbits, we are not a rescue centre and have no facilities for taking rabbits in ourselves.
Whilst Rabbit Rehome has nothing against responsible breeders, this site is not intended for breeders to advertise deliberately breed litters or for breeders to find 'stock'. The rabbits here are looking for loving homes as pets. We ask that people who are unsure whether they count as a breeder to contact us before listing their rabbits.
Helping Rescue Centres
We provide rescues centres with the facilities to post details of their available rabbits, advertise for foster carers and items needed, publicise events/open days, list lost & found rabbits and make appeals for rabbits needing special homes.
We work with over 50 rescue centres and many other rabbit lovers, this network means that when a rescue has a crisis we can often organise help. In the past this has ranged from helping find temporary foster homes for large influxes of rabbits, organising transport or raising emergency funds.
Rehoming Your Pet
We can put you in touch with your local rescue centres; or if you decide to rehome him/her personally we can advertise for a home for your rabbit, offer advice on checking new owners and possibly put you in touch with someone we know is looking for a rabbit similar to yours. We may also be able to help you combat the problem that is behind your need to rehome such as advice on solving behaviour problems or finding temporary foster care.
Adopting a Rabbit
For people looking to adopt we have a database of rabbits a list of rescue centres and offer advice on common pre-adoption questions such as what breed? One rabbit or two? And will it get on with my cat?
Aims
Although our main aim is to put potential adopters in contact with those currently caring for rabbits in need of homes. We also aim to:
Raise awareness of the unwanted rabbits available in rescues
Assist members of the public in finding homes for their unwanted pets
Work towards solving the problems that cause rabbits to become unwanted
Support the work of rescue centres
Does it Work? Yes
The Rabbit Rehome website receives approximately 42,000 visitors and 246,000 page view every month. Since its launch in September 2002 we have listed details of over 20,000 rabbits available for adoption. We pride ourselves on finding homes for even the most difficult of rabbits. On several occasions a rabbit has been snapped up within hours of appearing on the site. Two in five of the rabbits listed find their new owner via an enquiry from Rabbit Rehome!
Replica Watches