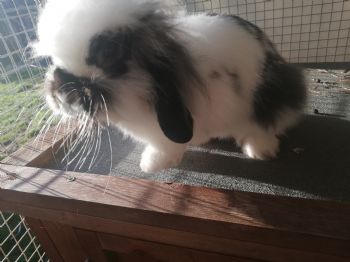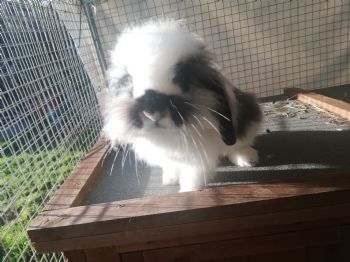 Rowan
Age: < 1
Breed: Lionhead Lop
Sex: Male (Neutered)
Location: Cumbria
Bonded: No
Vaccinated: Yes
Date Added: 14/09/2021
Last Update: 14/09/2021
More about Rowan:
It's now nearly 3 weeks since Rowan was castrated. His behaviour has improved already!

Rowan is only 21 weeks old and loves strokes and cuddles, and will sit patiently whilst being groomed.
As Rowan is a Lion-Lop, with thick hair and a big mane, he will need regular grooming to ensure he doesn't mat up.
Rowan has a great appetite, and absolutely loves forage. He is also improving with his litter training.

As well as being castrated, Rowan is fully vaccinated, and will be ready to go to his new home in around 5 weeks.

Rowan's new home must meet the RWAF minimum housing size (60sq ft at all time), he can live indoors or outdoors, but if outdoors, his enclosure must be fully predator proof with minimum 16ga weld mesh. We can give help and advice on housing if needed.

Rowan must be bonded with another rabbit (we can help with bonding). If you don't already have a rabbit to bond Rowan with, please message us to discuss, as we may be able to help you find a suitable partner either from ourselves, or another reputable rescue.

Rowan can go to a home with animal savvy children, and other pets - depending on his set up.
Rowan can travel for the right home.
A home check may be carried out and adoption fee applies.

Please message if you are interested!
How to Adopt this Rabbit
Rowan is being rehomed through a rescue. For more information or to enquire about adoption please contact:
Estuary Small Animal Rescue
Grange Over Sands
LA11 6QZ

Email: estuarysar@gmail.com
› View all rabbits