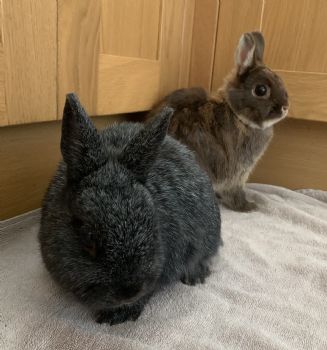 Kit
Age: 4
Breed: Netherland Dwarf
Sex: Male (Neutered)
Location: Leicestershire
Bonded: Yes, see below.
Vaccinated: Yes
Date Added: 12/09/2021
Last Update: 12/09/2021
More about Kit:
Description: A chocolate neutered nethie buck
General health: Good but with sensitive stomach
Temperament: Nice
Type of home wanted: Kit lives with his wifebun Amaya and they are looking for an experienced home with space, toys and love,
Kit dies have a sensitive stomach and needs to be on a mainly hay diet with very small amount of fresh herbs and grass.
These two rabbits are not suitable to be handled by young children
Kit must be rehomed with: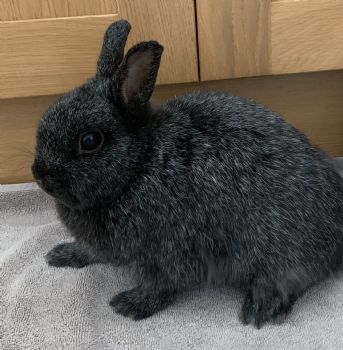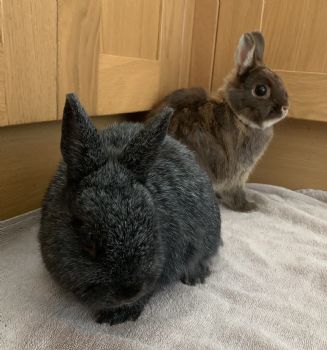 Amaya
Age: 4
Breed: Netherland Dwarf
Sex: Female (Neutered)
Vaccinated: Yes
Date Added: 12/09/2021
Last Update: 12/09/2021
More Details:
Description: a Black Silver nethie doe
General health: Good
Temperament: nice but timid
Type of home wanted: This very unusual coloured rabbit lives with her husbun Kit. They would live to be adopted by someone who has rabbit experience and will give them time to settle.
Can you give this stunning pair a home ?
How to Adopt this Rabbit
Amaya is being rehomed through a rescue. For more information or to enquire about adoption please contact:
Honeybunnies Leicester Rabbit & Guinea Pig
Narborough
Leicestershire

Tel: 0116 2869887
Email: honeybunnysr@aol.com
› View all rabbits

Details: We are a small, home-based rescue and rely on donations to keep running. We carry out a homecheck and a fixed minimum donation is required upon adoption of any of our animals..this is to help with vet/feed/costs, etc. If enquiring about one of our animals, and require a return call, please leave a LANDLINE number if possible, to keep our costs down, thank you.