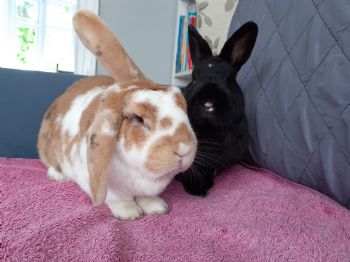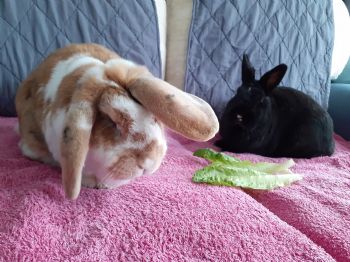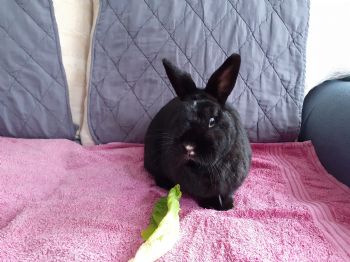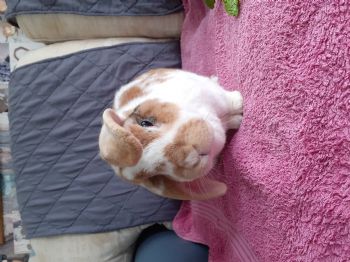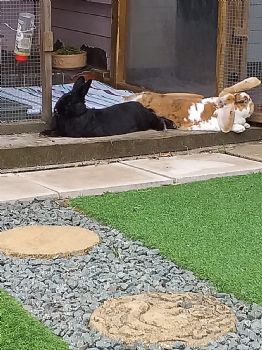 Fozzie & Sweetpea
Age: 9
Breed: Dwarf Lop
Sex: Female (Neutered)
Location: Cheshire
Bonded: No
Vaccinated: Yes
Date Added: 20/06/2021
Last Update: 10/10/2021
More about Fozzie & Sweetpea:
Meet Fozzie and Sweetpea ❤

Fozzie and Sweetpea came into our care due to their owners ill health, they were no longer able to provide the care the bunnies needed. Sweetpea was originally adopted from us in 2019. Fozzie is approximately 9 years old and Sweetpea is approximately 4 years old.

This pair just love the freedom to run and binky in the garden, Sweetpea does the most amazing jumps and twists and turns! They are truly at their happiest having lots of outdoor space to explore. Fozzie loves his home comforts with a nice comfy soft bed to lay out on.

They were both quite overweight when they arrived in our care, Sweetpea had infected fat rolls around her bottom which needed antibiotics and cleaning daily. She is now fully healed and a healthy weight and has no issues at all keeping herself clean.

Both bunnies are fed a mainly hay based diet with a few very low calcium veggies. Fozzie started having a few urinary issues and after investigation we found a huge bladder stone which was surgically removed. He is now fully healed and enjoys his romaine lettuce.

Both bunnies are fabulous hay eaters, they particularly love a bit of readi grass. They are also great with their litter training. Neither bunnies like to be picked up, they are very much rabbity rabbits who are wonderful to watch. Fozzie is the more sociable of the pair.

Fozzie and Sweetpea are both neutered, fully vaccinated and microchipped.

Fozzie is quite a large boy, they will need a new home a minimum of 60sqft all on one level. They have never lived in a hutch so a shed and run or an aviary style set up would be ideal for them. 
How to Adopt this Rabbit
Fozzie & Sweetpea is being rehomed through a rescue. For more information or to enquire about adoption please contact:
RSPCA Altrincham Cheshire Branch
Cheshire

Tel: 01612862503
Email: rspca.altrincham.cheshire@googlemail.com
Website: http://www.rspca-altrincham-cheshire.org.uk› View all rabbits