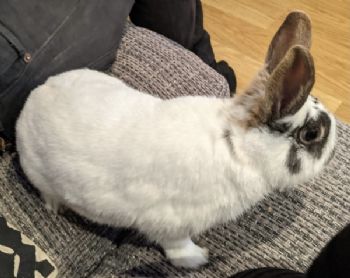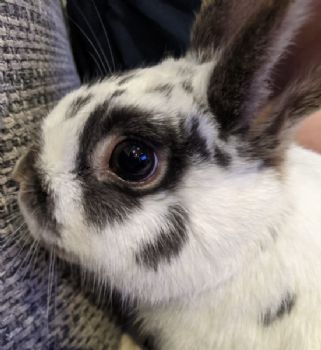 Dylan
Age: 1
Breed: Small
Sex: Male (Neutered)
Location: London
Bonded: No
Vaccinated: Yes
Date Added: 04/06/2021
Last Update: 14/10/2021
I've been waiting 4 months for a home!
More about Dylan:
Dilly (Dylan) Dilly is a handsome, confident little bun - with gorgeous black spots all over his head. He's very inquisitive and adventurous and not a lot seems to phase him, though he can still be a little shy when approached by humans. I have no doubt that in time, once he has a forever home he will be quick to love his human completely. He's a solid little fellow, and is relatively content to be picked up (when you can catch him) and to have a cuddle. He is happiest bouncing around outside exploring all the plants and then trotting indoors as he pleases, and finally lounging on the doormat. He seems to enjoy the company of cats, and likes a little nose kiss with them as well as following them around.

Dilly still has a bit of stained fur around his backside where he had some matting clipped off but that will grow out in time. He's a very sweet boy, and deserves a super special, loving home where he can have a lot of freedom to bounce about. He will flourish with a special bunny buddy as he's so friendly towards cats. Cats won't be an issue in his new home and I think he would be happy indoors or outdoors as long as he gets lots of attention.
How to Adopt this Rabbit
Dylan is being rehomed through a rescue. For more information or to enquire about adoption please contact:
Hounslow Animal Welfare Society

Tel: 020 8560 5443
Email: otheranimals@haws-animals.org.uk
Website: http://www.haws-animals.org.uk› View all rabbits