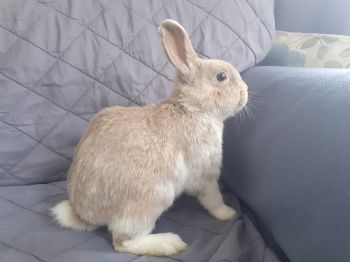 Wilbur
Age: < 1
Breed: Medium
Sex: Male (Neutered)
Location: Cheshire
Bonded: No
Vaccinated: Yes
Date Added: 16/03/2021
Last Update: 10/10/2021
I've been waiting 7 months for a home!
More about Wilbur:
Introducing our lovely wonky Wilbur. Wilbur is a medium sized cross breed boy about 10 months old.

Wilbur came into our care after being passed from home to home. He is an extra special boy due to his deformities and is looking for an extra special home. Wilbur has a deformed spine causing his body to bend. At the moment this doesn't bother him at all, he is a super active boy. In time as he gets older he will be more susceptible to arthritis and will likely need to be on long term antiinflamatories to help. Access to a good rabbit savvy vet would be essential.

Wilbur is looking for a home all on one level to see him through his life. At the moment he is very agile but as he gets older this may change, also there is a risk due to the curve in his spine that jumping could cause damage.

Wilbur has a wonderful diet and loves his hay, both to eat and to bury himself in! He is also wonderfully litter trained. 

Wilbur is looking for an adult only home as he will need careful handling. Wilbur would love to be bonded with a neutered female rabbit in his new home. Wilbur was castrated 5.3.21 so will be ready to bond after 30.4.21. Wilbur has also been fully vaccinated and microchipped.
How to Adopt this Rabbit
Wilbur is being rehomed through a rescue. For more information or to enquire about adoption please contact:
RSPCA Altrincham Cheshire Branch
Cheshire

Tel: 01612862503
Email: rspca.altrincham.cheshire@googlemail.com
Website: http://www.rspca-altrincham-cheshire.org.uk› View all rabbits