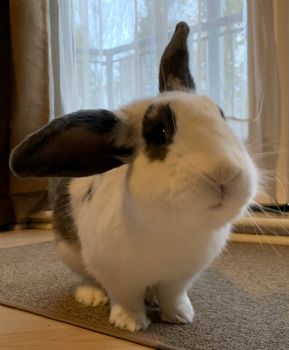 Peter Rabbit
Age: 2
Breed: English Lop
Sex: Male
Location: Surrey
Bonded: No
Vaccinated: Yes
Date Added: 22/02/2021
Last Update: 22/02/2021
More about Peter Rabbit:
Description: Peter Rabbit or 'Pete' is a very charismatic, curious rabbit. I have had Pete for over a year but due to moving to London for work I am sadly having to find Pete a new home.

Pete has lived with other rabbits before I owned him but apparently did not get on well with them which is why he was rehomed to me - he is not neutered so this may help if you are looking to home him with other rabbits.

Pete does love people though - he gets nervous being picked up for too long but will come and sit next to you and snuggle up to you - when he's not being lifted off the ground he's really calm and loves being around people.
Pete has been living indoors and is house trained, he has gone outside during the summer when it's warm but has been raised as mostly a house rabbit. Pete has also learned to come to you when you whistle(!) and will jump up onto a surface when instructed - he really is a very clever rabbit!

Pete is a great little rabbit and needs a home where he will be loved, played with lots and really well looked after. This will be his third time being rehomed so now is the time for Pete to find his forever home!

General health: Very healthy, Pete last saw the vet early February 2021 and is up to date with his vaccinations as well as being in very good general health.

Temperament: As above

Type of home wanted: Somewhere Pete will get plenty of attention, be cuddled and played with.
How to Adopt this Rabbit
Peter Rabbit is being rehomed by a private individual. For more information please contact:
Leonora Bell

Tel: 07803823188
Email: leo.bell27@hotmail.co.uk
› View all rabbits