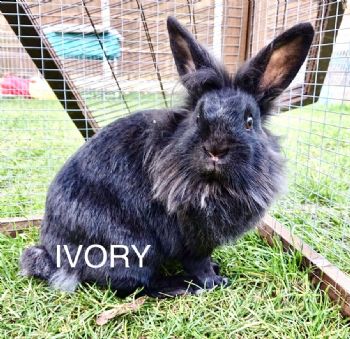 IVORY (& Solo)
Age: < 1
Breed: Lionhead
Sex: Female (Neutered)
Location: Essex
Bonded: Yes, see below.
Vaccinated: Yes
Date Added: 11/01/2021
Last Update: 18/09/2021
I've been waiting 8 months for a home!
More about IVORY (& Solo):
Beautiful Ivory is a pure black lionhead girl born February 2020. She is looking for a loving home with her daughter, Solo
The girls are very sweet & good with their litter trays and so would be great house bunnies but could also be housed as outdoor buns

General health: V good! The pair have been vet checked, neutered and vaccinated against myxomatosis, RHD1 & RHD2

Type of home wanted: V loving with lots of space to binkie & play.

An adoption fee of £120 PER BUNNY (£240 the pair) is required to help us cover their vet costs
IVORY (& Solo) must be rehomed with: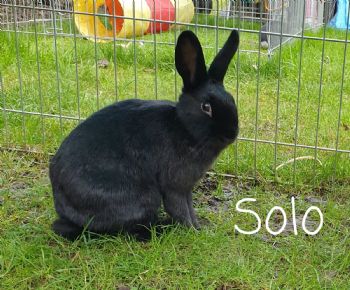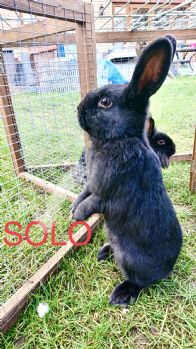 SOLO (& Ivory)
Age: < 1
Breed: Netherland Dwarf
Sex: Female (Neutered)
Vaccinated: Yes
Date Added: 11/01/2021
Last Update: 15/09/2021
I've been waiting 8 months for a home!
More Details:
Description: Lovely Solo is a pure black small nethie X lion head girl, born August 20. She is looking for a home with her mum, Ivory.

The girls are very sweet & good with their litter trays and so would be great house bunnies, though they can also be housed as outdoor bunnies

General health: V good! The pair have been vet checked, neutered and vaccinated against myxi, RHD1 & RHD2.

Type of home wanted: V loving with lots of space to binkie & play.

An adoption fee of £120 PER BUNNY (£240 the pair) is required to help us cover their vet costs
How to Adopt this Rabbit
SOLO (& Ivory) is being rehomed through a rescue. For more information or to enquire about adoption please contact:
ESSEX GUINEA PIG, RAT AND RABBIT RESCUE
EASTWOOD
SS9 Not Open Sundays

Tel: 07709 417474 / 07725 909198
Email: rose.wendy@btopenworld.com
Website: http://www.egprr.org› View all rabbits