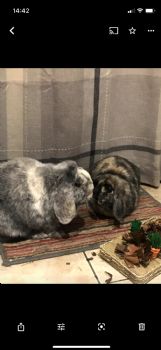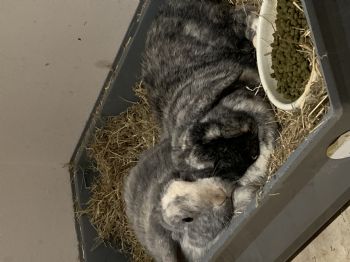 Teddy
Age: 2
Breed: Harlequin
Sex: Male (Neutered)
Location: Kent
Bonded: Yes, see below.
Vaccinated: Yes
Date Added: 12/11/2020
Last Update: 25/11/2020
More about Teddy:
Description: Teddy is a brown/cream harlequin. 2 years old and neutered/vaccinated

General health: he is in good health.

Temperament: he is easy going but prefers not be handled.

He has occasionally nipped if he is picked up and doesn't like it but has never drawn blood.

Type of home wanted: Teddy is bonded with Marble (my female rabbit) and they will only be re-homed together. Please see marbles profile.

They both have always lived indoors and have free run of the kitchen and often spend a lot of time in the garden.

They have never lived in a cage and I am looking for a home that can provide with similar living arrangements.
Teddy must be rehomed with:
Marble
Age: 4
Breed: Harlequin
Sex: Female (Neutered)
Vaccinated: Yes
Date Added: 12/11/2020
Last Update: 25/11/2020
More Details:
Marble is a grey and white female harlequin.
She is in good health, neutered and vaccinations up to date.
She is laid back and doesn't mind being handled. She has never bitten or shown any aggression.
Type of home wanted: I am looking to re-home Marble with her friend Teddy (bonded pair). His details are listed separately.
They have always lived indoors and I would like them to be re-homed together in a similar environment.
They currently have free run of the kitchen. A lot of the time the kitchen door is open so they can hop in/out and explore when they want.
How to Adopt this Rabbit
Marble is being rehomed by a private individual. For more information please contact:
Vicki
25 Parrock Road
DA12 1QE

Tel: 07841379103
Email: v_luxford@yahoo.co.uk
› View all rabbits