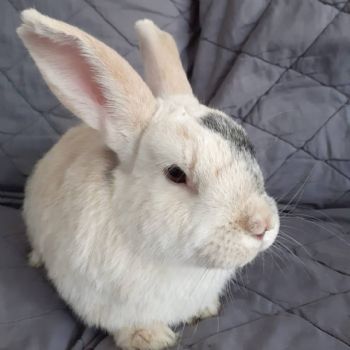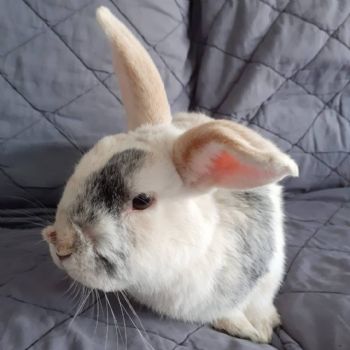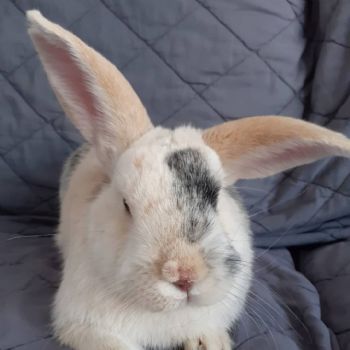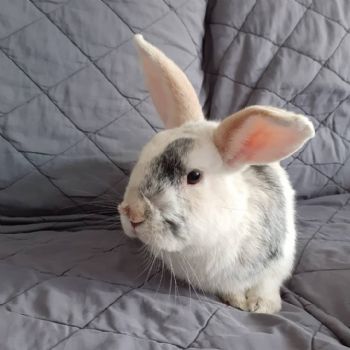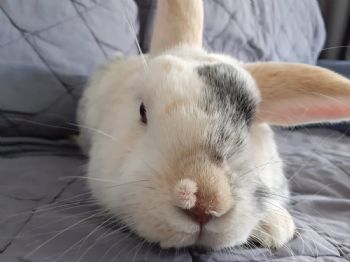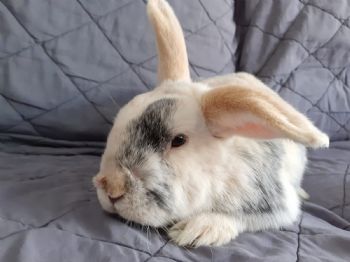 Charlie
Age: 2
Breed: Medium
Sex: Male (Neutered)
Location: Cheshire
Bonded: No
Vaccinated: Yes
Date Added: 30/09/2020
Last Update: 30/09/2020
More about Charlie:
How handsome is our boy Charlie!? Charlie is a medium sized boy who possibly has some lop in him as his ears can't really decide if they're up or down! We have guestimated his age at approximately 2 years old. As you can see Charlie has been through a tough past, he has a few battle scars on his nose and ear tips, these are fully healed and cause him no issues at all.

Charlie came into our care via the the RSPCA inspectorate from a multi animal household and sadly no history came with him. Charlie is a super sweet boy who does the best bunny flops! He would make an amazing house rabbit. He is litter trained and loves his home comforts. He can be a little skittish and spooks easily so a quiet home without young children would be ideal. Once you have hold of him he relaxes and does enjoy a fuss so I'm sure in the right home he will learn to trust and settle and become a fabulous member of the family.

Charlie has been health checked by an exotics specialist vet, he has been neutered (28.8.20 so can bond from 9.10.20) microchipped and is fully vaccinated. Charlie is looking for a home where he will be bonded with a neutered female rabbit.

If you want to know more please email our volunteer small animals coordinator Jo via rspca.alt.cheshire.smallanimals@gmail.com.
How to Adopt this Rabbit
Charlie is being rehomed through a rescue. For more information or to enquire about adoption please contact:
RSPCA Altrincham Cheshire Branch
Cheshire

Tel: 01612862503
Email: rspca.altrincham.cheshire@googlemail.com
Website: http://www.rspca-altrincham-cheshire.org.uk› View all rabbits