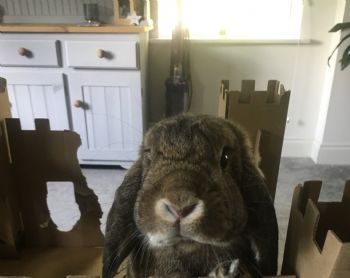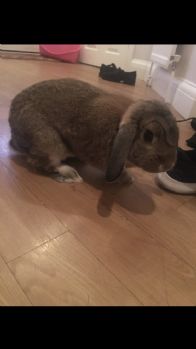 Hugo
Age: 2
Breed: Mini Lop
Sex: Male (Neutered)
Location: Berkshire
Bonded: No
Vaccinated: Yes
Date Added: 11/08/2020
Last Update: 11/08/2020
More about Hugo:
Description: I am looking for a forever home for the lovely Hugo. Iíve had him for 2 years now, trying to bond him with my widowed doe. Unfortunately he really wants to be friends but she doesnít and I donít think itís fair on him to live his life alone.
Always lived indoors.
General health: VHD1 and myx jabs up to date. Happy to get VHD2 before leaving me if needed. currently on a diet - he likes to chew his toys! Otherwise fit and well. Loves binkying and jumping on things when given a big area to run around.
Temperament: Loves cuddles on the floor and will come up and nudge my leg for a stroke. Not great at being picked up but will settle for a cuddle in my arms occasionally. Loves having his head stroked! He can be fiesty when itís feeding time and he will grunt - I have trained him out of this by placing my hand on his head every time heís fed. Heís starting to wait patiently for his food now. I have trained him to stop being naughty when he hears his name and I clap my hands but youíd need to watch him if our inside the house.
Type of home wanted: must go with a neutered female. He would love to have a partner! Must go to an experienced adult.
How to Adopt this Rabbit
Hugo is being rehomed by a private individual. For more information please contact:
Becky
7 Lawrence place
Rg29rs

Tel: 07792400952
Email: Rebecca.parker77@hotmail.co.uk
› View all rabbits