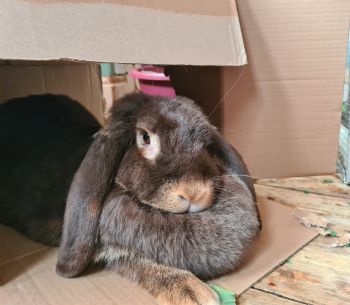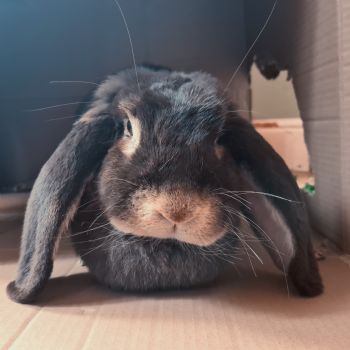 Connie
Age: 2
Breed: French Lop
Sex: Female (Neutered)
Location: Greater Manchester
Bonded: No
Vaccinated: Yes
Date Added: 30/07/2020
Last Update: 11/08/2020
More about Connie:
Giant bunny enthusiasts are going to love our beautiful French Lop lady. We have given her the grand name of Connie Conchita but to her foster carer she is affectionately known as 'Papa Lazarou'. We estimate Connie at around 2 years old. Prior to coming into our care she has had the most miserable existence. She was found living in a barren, small, plastic cage. There was no food, the water bottle was green and she hadn't been cleaned out in months. There were 7 rabbits and 3 guinea pigs living like this and some are still struggling to adjust to their change in fortunes. Connie was of the easier ones to re-educate with her diet, others we are still struggling with and some so obese that we continue to battle with skin infections in their fat folds from living a sedentary life from longterm incarceration. Some are still barely moving around, despite their new-found freedom, such is their institutionalised behaviour. It is probably one of the saddest 'cases' of neglect we have ever seen.

After 3 weeks of being in our care Connie is remarkably settled in her foster home. This is what her foster mum has to say about her:

"It has been a long while since I have wanted to adopt a foster animal and it is going to be so hard saying goodbye to 'Papa'. Each day I feel such pride watching her playing and exploring and I love that she makes a mess chewing cardboard boxes and throwing willow branches around because she is having fun.

Papa has been one of the most rewarding foster animals I have had in over 20 years. She has quickly learnt to trust us and will sit and wait for you to stroke her when you enter her pen. She has been such a good girl giving medicine to following her neuter. I think she feels in safe hands, and loved. She seems to really appreciate the space, food and enrichment she has and I take such joy in watching her play, knowing that it probably for the first time in her life.

Papa is an excellent hay eater and always uses her litter trays. Her favourite veg is kale and she is slowly trying other greens, but generally her repertoire is quite limited, we think because she has never tried it before."

Connie is a gentle giant but is spooked easily, so she will need a home with adults only who are experienced with giant rabbits, in particular rescue rabbits. She needs nurturing, patience, understanding, a lot of space (including big dog bed litter trays) and lots and lots of hay. The next move for Papa has to be a forever home. She may very well love a companion but we want an adopter who will keep her regardless of whether they bond or not. This girl has had the most rotten life and she now needs stability. If you can offer her an indoor home with lots of space, love and experience with large breeds then please email telling us more about you at rspcamcr_salford@btconnect.com Given the life she has been through we need to make sure you are the perfect match for her. She is neutered, fully vaccinated and microchipped. The adoption fee is £50.

How to Adopt this Rabbit
Connie is being rehomed through a rescue. For more information or to enquire about adoption please contact:
RSPCA Manchester & Salford Branch
565 Wilbraham Road, Chorlton, Manchester
Greater Manchester
M21 0AE

Tel: 0161 8820680
Email: rspcamcr_salford@btconnect.com
Website: http://www.rspca-manchesterandsalford.org.uk› View all rabbits

Details: ∑ All of our rabbits are micro-chipped, neutered and vaccinated against Myxomatosis and Viral Haemorrhagic Disease (VHD). To ensure rabbits are protected from these common diseases, VHD needs repeating every year and in some areas Myxomatosis needs repeating every 6 months, otherwise annually. We undertake a home visit for each rabbit prior to adoption; we aim to do this within one week of each reservation placed. We ask for an adoption fee of £40 per rabbit, £75 for a bonded pair. Rabbits are highly sociable mammals and should ideally live with another. Both rabbits must be neutered regardless of their sex, this is not only to prevent unwanted litters but also promotes good health long term and keeps hormone levels to a minimum. Adopted rabbits living on their own may only be re-homed indoors as house rabbits, requiring a lot of human attention and additional stimulation. When a rabbit is to be bonded with a potential adopterís rabbit, we ask that their rabbit is both neutered and up to date with vaccinations against Myxomatosis and Viral Haemorrhagic Disease (VHD). The best companion match when bonding two rabbits is a neutered male with a neutered female. In most instances, all initial bonding sessions will be carried out under RSPCA supervision to gauge how the rabbits will potentially get on together. When rabbits are to live outdoors then the RSPCA minimum size requirements for a hutch are 6ft x 2ft x 2ft - sheds are an ideal option. With rabbits requiring a minimum of 4-5 hours exercise every day, a secure run permanently attached to the hutch/shed is ideal. We are a registered charity: 232255.