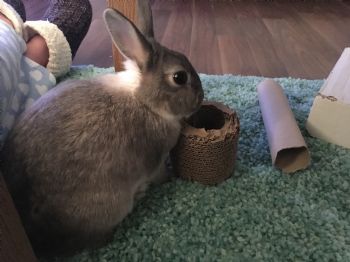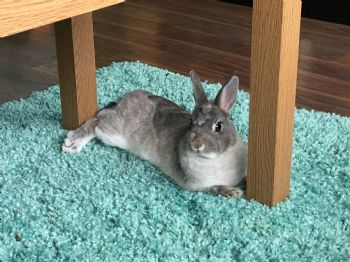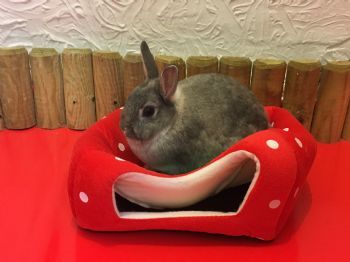 Ellie
Age: 3
Breed: Netherland Dwarf
Sex: Female
Location: Yorkshire
Bonded: No
Vaccinated: Yes
Date Added: 24/02/2020
Last Update: 27/02/2020
More about Ellie:
*About:
Ellie is a small, calm, loving house rabbit who is good around adults and children. She has her own little cute personality that will just make your heart melt.

Ellie is fully house trained, using corner trays to toilet in (lined at the bottom with a small amount of wood shavings and covered in loads of hay for pooping and snacking all at once). She does not like a dirty tray so replacing the contents every couple of days, if not everyday, will keep her a happy bunny.

Ellie loves to roam free when you are home, bunny flopping, hopping around to explore, jumping up on sofas and coming to say hi for pets and cuddles. She loves being petted on the head the most and shows her love by giving lots of bunny kisses once she trusts you.

When you are out or over night she's happy to have an area of her own blocked off with toys to keep her entertained, loads of hay for snacking, water and hideaways for chilling.

When the weather is nice, Ellie loves to have time outside to run around and be in the sunshine although make sure she is in a safe enclosed space so little Dora cannot explore too far out of sight.

Ellie loves eating, she is only fed once in the morning (Gem lettuce - 2 pieces and Science Selective rabbit food - 1 egg cup). She gets very excited and will eat it all at once but don't be fooled, it is plenty for her. She has fresh hay (Timothys) available all day and night which she loves to munch on 24/7 so make sure there is a fresh top up everyday. Ellie loves the occasional treat such as carrot, raspberries and brocoli (which is her favourite). She prefers drinking water from a bowl as she does not like drinking from a bottle.

Ellie can be shy around people she does not recognise but in her own time will come over and say hi.

*Reason for rehome:
We are moving to a new house which sadly is not suitable for her. We have looked at all possible avenues but we don't feel putting her outside or in the garage will make her happy as she loves to be around people. It's been the hardest decision but we want the best for Ellie and her happiness.

*Type of home wanted:
We are looking for a loving forever home for Ellie. Someone or a family that is serious about taking on an indoor rabbit and giving her the love she has been use to. We are happy to support with setting her up and giving any advice on how to keep her happy. We would be keen to have updates of how she is getting on.

Any questions, please don't hesitate to ask!
How to Adopt this Rabbit
Ellie is being rehomed by a private individual. For more information please contact:
Nicole

Email: mrsnjohnson24@gmail.com
› View all rabbits