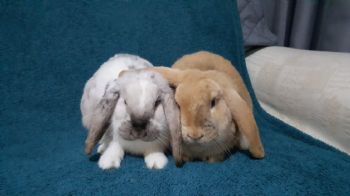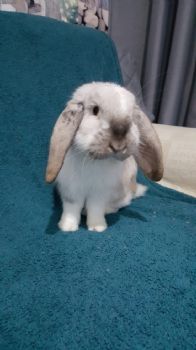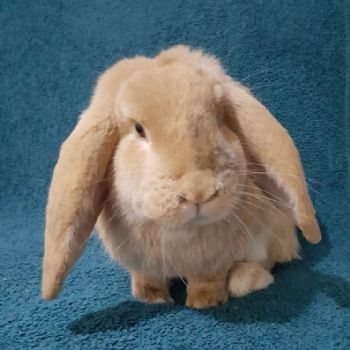 Frankie & Freckles
Age: < 1
Breed: French Lop
Sex: Male (Neutered)
Location: Cheshire
Bonded: No
Vaccinated: Yes
Date Added: 24/10/2019
Last Update: 19/02/2020
I've been waiting 4 months for a home!
More about Frankie & Freckles:
Meet Frankie & Freckles, two large French lops who are 6 months old and already weighing in at around 3kg!!

Frankie is the tan coloured female and Freckles is the grey spotty boy.

They came into our care via the RSPCA inspectorate from a multi rabbit case with over 70 rabbits in the home.

Both bunnies are super social and inquisitive. They are always happy to see you and will follow you round and 'mug you' until they get their greens or a treat or a fuss. Both bunnies are fabulous hay eaters and are getting there with their litter training.

Freckles have had to have his incisors removed so needs to have his veggies and greens shredded and grated for him, any new home must be prepared to do this twice daily for him to enable him to eat enough. Freckles was literally starving when he first arrived, he was skin and bone purely because he wasn't able to eat properly. Since having his front teeth removed he has gone from strength to strength.

Freckles is the baby of the two, he is so soft. Frankie is the explorer, she does amazing binkies around the garden. Fergus is the impatient one and wants everything yesterday!

Frankie and Freckles are giant bunnies so will need a large home, either a shed with aviary style set up or as free range house bunnies.  They would like to be homed together as a bonded pair.

Frankie and Freckles have both been neutered, are fully vaccinated against myxomatosis vhd1 and vhd2 and are microchipped.
How to Adopt this Rabbit
Frankie & Freckles is being rehomed through a rescue. For more information or to enquire about adoption please contact:
RSPCA Altrincham Cheshire Branch
Cheshire

Tel: 01612862503
Email: rspca.altrincham.cheshire@googlemail.com
Website: http://www.rspca-altrincham-cheshire.org.uk› View all rabbits