Charlie
Age: 7
Breed: Medium x Rex Standard
Sex: Male (Neutered)
Location: London
Bonded: Yes, see below.
Vaccinated: Yes
Date Added: 22/08/2018
Last Update: 22/08/2018
More about Charlie:
Description: Charlie is a grey rex/continental mix. He has the softest fur! He has recently made friends with Elsa as his previous bonded rabbit unfortunately passed away.
General health: Charlie has never had any health problems!
Temperament: Charlie had a bad history and so has affected his confidence. He can be a little jumpy at times but is never shown aggressive or reckless behaviour. He is independent and likes to watch his environment.
Type of home wanted: Charlie has always lived indoors and has been free roaming. although he prefers to stay in his pen and doesn't explore too much unless you are out. ideally he would be rehomed with his new friend Elsa.
Charlie must be rehomed with: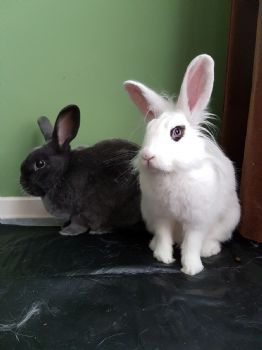 Elsa
Age: 3
Breed: Medium
Sex: Female (Neutered)
Vaccinated: Yes
Date Added: 22/08/2018
Last Update: 22/08/2018
More Details:
Elsa is cross breed white rabbit. She has long hair on her cheeks and behind her ears and is loved for her 1 blue eye and 1 brown eye. She has recently been living with Charlie, I would like to keep them together. His details are on a separate listing.
General health: Elsa has been neutered at 1 years old and has only been to vets for check ups. She hasnt had any health problems. She has a healthy diet of fresh vegetables that she adores.
Temperament: Elsa is very independent and can take some time to get used to her surroundings. However once she feels comfortable she likes hopping around the house. She enjoys peoples company, likes tickles and treats but doesn't necessarily come to you for hugs. (although i hug her anyway!) She has been litter trained and has does not create any problems round the house.
Type of home wanted: Elsa has lived in an open home environment, however she likes to stay in her house most of the time even if her door is wide open. She would not be suitable outside or permanently behind a closed cage. I can provide the home she is currently living in, which is a puppy pen about 1 metre big.
How to Adopt this Rabbit
Elsa is being rehomed by a private individual. For more information please contact:
Leanne
N2

Tel: 07534403533
Email: leannejane91@gmail.com
› View all rabbits