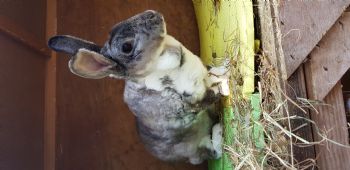 Winnie
Age: 7
Breed: Rex Mini x Rex Standard
Sex: Female (Neutered)
Location: Hertfordshire
Bonded: No
Vaccinated: Yes
Date Added: 16/06/2018
Last Update: 11/09/2018
I've been waiting 4 months for a home!
More about Winnie:
Winnie is looking for a home.
She is and older lady, around 7/8 years old and looking for a home with a neutered boyfriend. She could live indoors or outdoors. Winnie is a mini rex but on the larger end of the scale at around 2.5kg. She was very overweight when she arrived and is now down to a healthy body condition that will need to be maintained in her new home.
Despite her age, Winnie is an active lady and likes to have lots of space and things to do. She is a fantatsic hay eater and very confident with people. She absolutely loves being stroked and will dead bunny flop when being fussed so you have a better stroking surface area.
She is spayed and fully vaccinated against myxomatosis, RHD1 and RHD2.
Adoption fee is a minimum donation of £50.
How to Adopt this Rabbit
Winnie is being rehomed through a rescue. For more information or to enquire about adoption please contact:
Buningham Palace Rabbit Rescue
Marley Road
Al7 4bt

Email: buninghampalace@outlook.com
Website: http://www.facebook.com/buninghampalace12› View all rabbits