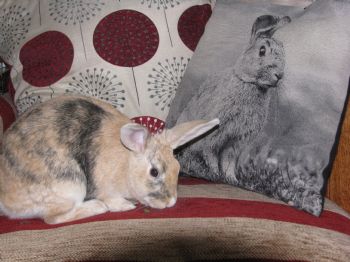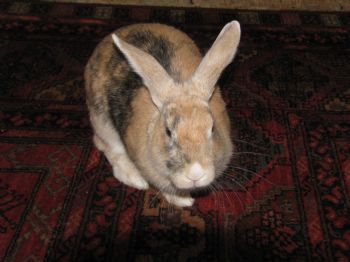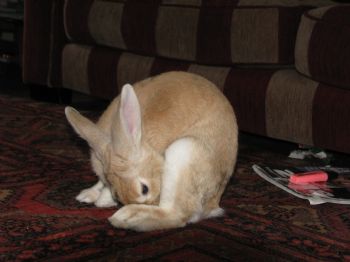 Philomena
Age: 1
Breed: Harlequin
Sex: Female (Neutered)
Location: Middlesex
Bonded: No
Vaccinated: Yes
Date Added: 14/01/2018
Last Update: 14/01/2018
More about Philomena:
Description: Tan and black
General health: good now. see below
Temperament:friendly - looking for indoor home
Type of home wanted: Philomena is a lovely girl who was found abandoned in a cage with the most horrendously overgrown teeth. Her incisors were so long the were growing into her nose and lower jaw making it impossible to eat. After an emergency trim at the vets she was ecstatic and spent the next few hours munching on hay and greedily gobbling down nuggets and veg. Philomena has now had her incisor teeth completely removed so this will never be a problem again, she recovered well from the operation and is now fit and ready to begin a new life in a loving home.

Philomena is a lovely rabbit, she is very confident inside and we suspect she has always lived as a house rabbit. She seems to be completely litter trained and isn't a desperately chewy rabbits, though precautions should still be taken to ensure all cables and wires are safely tucked away. She loves a stroke on the head, and is very friendly, though as with most rabbits she really isn't keen on being picked up.

Philomena is looking for an indoor home where she will have lots of space to explore and investigate, and where she will have a male companion to share her new life with.

Please be aware that we do not rehome single rabbits as solo pets. All our single rabbits are looking for neutered opposite sex rabbits who they can be bonded with.
How to Adopt this Rabbit
Philomena is being rehomed through a rescue. For more information or to enquire about adoption please contact:
RSPCA Middlesex North West Branch
Middlesex
HA5 1RL

Tel: 020 89669688
Email: info@rspcamiddlesex.org.uk
Website: http://www.rspca-middlesex.org.uk› View all rabbits

Details: For more information on any of the beautiful rabbits or guinea pigs in our care please contact: SARAH or TRACY ON THE NUMBER OR EMAIL ADDRESS ABOVE. Please note we are a local RSPCA Branch working in and around Harrow,North West London, Watford and St Albans. we do not have a rescue centre for you to visit, as all the animals are cared for in private foster homes. If you are interested in any of the rabbits or guinea pigs seen here, arrangements can be made for you to visit them once a successful home visit has been completed.