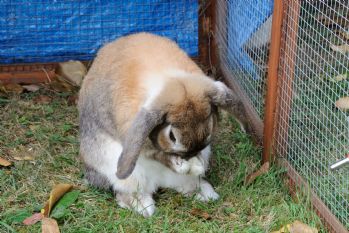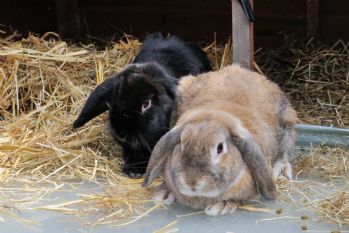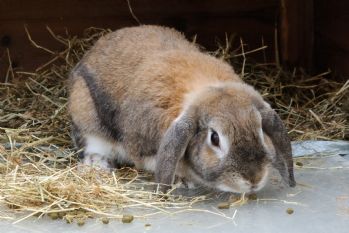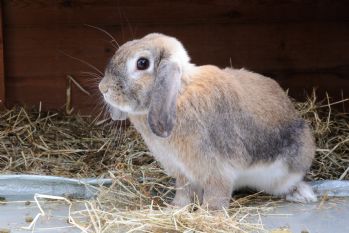 Bambi
Age: 2
Breed: Mini Lop
Sex: Female (Neutered)
Location: Middlesex
Bonded: Yes, see below.
Vaccinated: Yes
Date Added: 19/12/2017
Last Update: 13/08/2018
I've been waiting 8 months for a home!
More about Bambi:
Description: brown,
General health: good
Temperament: sweet
Type of home wanted: Bambi and Madison came into our care along with lots of other rabbits when a breeder/ pet shop was closed down. Bambi, mum, had been kept along with may other females as breeding machines churning out litters of kittens for the pet shop trade. Little Madison is the last of the litter that cam in with mum when they were rescued.

Bambi has come a long way since she first arrived in our care, she was always shy and difficult to handle, nowadays, she is much improved and though she will never really like being pick up, as most rabbits don't anyway, she is a lot happier about it, less wriggly and easier to groom and give a health check to.

Madison is a confident young fellow and is very nosy and inquisitive and happy being handled. Both these rabbits are naturally energetic and inquisitive so will need space and lots of interesting this to investigate. They are best suited to life as outdoor bunnies.
Bambi must be rehomed with: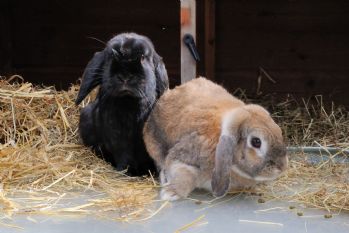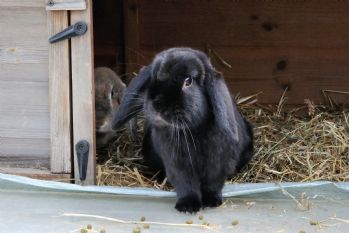 Madison
Age: < 1
Breed: Mini Lop
Sex: Male (Neutered)
Vaccinated: Yes
Date Added: 19/12/2017
Last Update: 13/08/2018
I've been waiting 8 months for a home!
More Details:
Description: Black about 6 months old
General health: good
Temperament: friendly
Type of home wanted: SEE Bambi
How to Adopt this Rabbit
Madison is being rehomed through a rescue. For more information or to enquire about adoption please contact:
RSPCA Middlesex North West Branch
Middlesex
HA5 1RL

Tel: 020 89669688
Email: info@rspcamiddlesex.org.uk
Website: http://www.rspca-middlesex.org.uk› View all rabbits

Details: For more information on any of the beautiful rabbits or guinea pigs in our care please contact: SARAH or TRACY ON THE NUMBER OR EMAIL ADDRESS ABOVE. Please note we are a local RSPCA Branch working in and around Harrow,North West London, Watford and St Albans. we do not have a rescue centre for you to visit, as all the animals are cared for in private foster homes. If you are interested in any of the rabbits or guinea pigs seen here, arrangements can be made for you to visit them once a successful home visit has been completed.