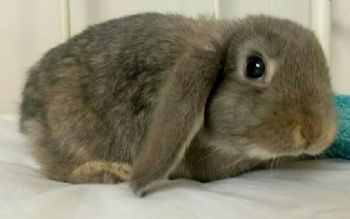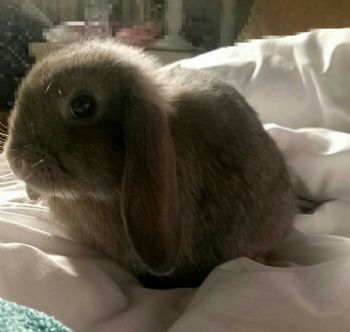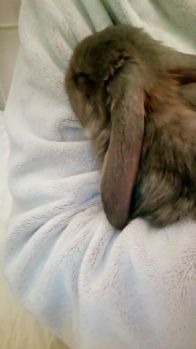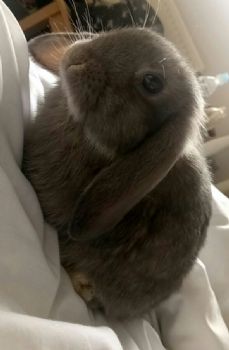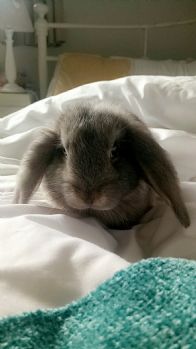 Einstein
Age: 1
Breed: Dwarf Lop
Sex: Male
Location: Lancashire
Bonded: No
Vaccinated: Yes
Date Added: 11/11/2017
Last Update: 11/05/2018
I've been waiting 6 months for a home!
More about Einstein:
Description: Agouti holland/mini lop, small adult size

General health: Overall good health. Bright eyes, shiny and full coat, good teeth, and regularly trimmed nails.

Temperament: He's inquisitive and outgoing. Einstein loves attention and treats, and does well with other animals and family. He's litterbox trained and strictly an indoor rabbit. Energetic in the morning and likes to play, while laidback at night. Likes lots of veggies and hay.

Type of home wanted: Spacious and low-energy family home to give him lots of attention and tlc. Owning a rabbit is a big responsibility and he needs a home where he can get all of the attention, play, and care that he needs.

Einstein cannot be neutered due to bad reaction to anesthetic and is fragile (had to be revived due to the anesthetic multiple times). He is still a lovely rabbit who soaks up attention and craves interaction. He is being rehomed due to the fact that his owner is moving out to college and cannot leave him at home alone.

Please only inquire if you have done your research on rabbits and are genuinely interested in giving him good home. Rabbits are not gifts and are a true commitment. They are living animals that require a lot of mental stimulation, care, and love.
How to Adopt this Rabbit
Einstein is being rehomed by a private individual. For more information please contact:
Elena C
Blackburn Lancashire

Email: elenacollow@gmail.com
› View all rabbits