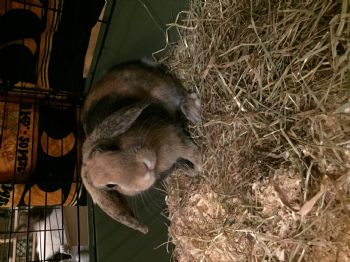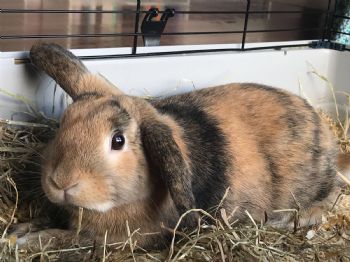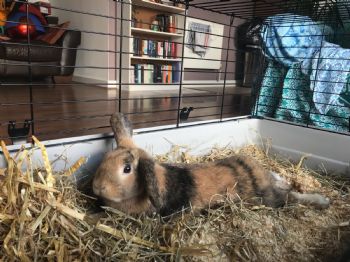 Bowie
Age: < 1
Breed: Medium x Medium
Sex: Male (Neutered)
Location: West Midlands
Bonded: No
Vaccinated: Yes
Date Added: 04/11/2017
Last Update: 04/11/2017
More about Bowie:
Healthy 6 month old male Lop.
Vaccinated.
Neutered.

Colour: Brindle

Temperament: Can be nervous around unfamiliar people but soon settles. He is very curious, always looking for new things to play with.
He is house trained however this could change when moving into a new home, as it may upset his routine. He is a quick learner though and picked it up it no time.

Diet: Mostly pellets, but has been given carrots and spinach which he enjoys.

He is an indoor rabbit, but as we adopted him we believe that he could have previously been an outdoor rabbit as he was very confused by the indoors but quickly settled in. He loves fuss and is happy to sit you with, as long as you can give him lots of attention.

Unfortunately he doesn't get on with our other rabbit. This is not to say he won't get along with any other rabbits but it just didn't work out for us. Our other rabbit is very laid back and Bowie is more active. We did try bonding services however it just didn't work.

How to Adopt this Rabbit
Bowie is being rehomed by a private individual. For more information please contact:
Codie
5 Birch Croft
B377QP

Tel: 07805799003
Email: Codieellen7@gmail.com
› View all rabbits