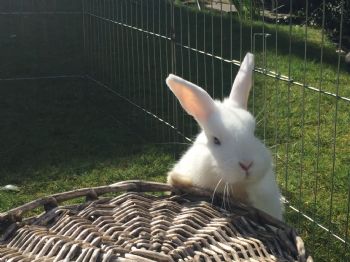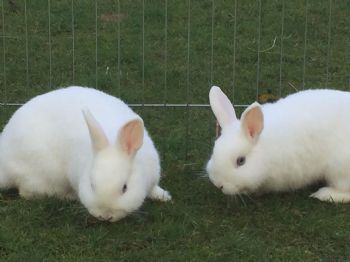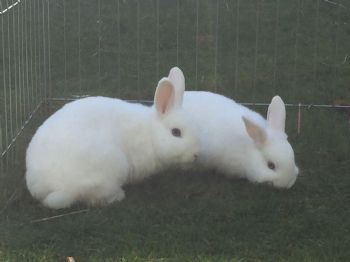 Shimmer & Sparkle
Age: < 1
Breed: Medium
Sex: Male (Neutered)
Location: Cheshire
Bonded: No
Vaccinated: Yes
Date Added: 15/10/2017
Last Update: 13/10/2018
I've been waiting 12 months for a home!
More about Shimmer & Sparkle:
Shimmer and Sparkle. The boys are approximately 6 months old now and will be medium sized bunnies when they are fully grown.

Shimmer and Sparkle came into our care along with their mum and 5 other bunnies. They came from a home where breeding had got out of control and their owner had just left them to go abroad for a few months, they were also being fed a completely unsuitable diet. The boys were only 3 weeks old when they arrived in our care and have thankfully suffered no ill effects from their past, they are strong bouncy healthy baby bunnies who have an amazing appetite and enjoy a very healthy diet.

Both blue eyed and white these two make a stunning pair, and as they've grown in stature they've also grown in confidence.

Both boys have been neutered, fully vaccinated against myxomatosis vhd1 and vhd2, microchipped and health checked by an exotics specialist vet. They are looking for new homes either in groups or pairs or singularly to bond with an existing neutered vaccinated female rabbit in the home.
How to Adopt this Rabbit
Shimmer & Sparkle is being rehomed through a rescue. For more information or to enquire about adoption please contact:
RSPCA Altrincham Cheshire Branch
Cheshire

Tel: 01612862503
Email: rspca.altrincham.cheshire@googlemail.com
Website: http://www.rspca-altrincham-cheshire.org.uk› View all rabbits