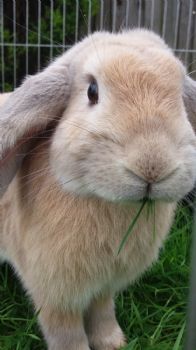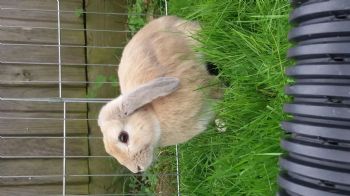 Jenga
Age: 1
Breed: German Lop
Sex: Male (Neutered)
Location: Middlesex
Bonded: Yes, see below.
Vaccinated: Yes
Date Added: 08/10/2017
Last Update: 12/12/2017
More about Jenga:
Description: fawn colour medium lop.
General health: good
Temperament: friendly
Type of home wanted: SEE ELMA
Jenga must be rehomed with: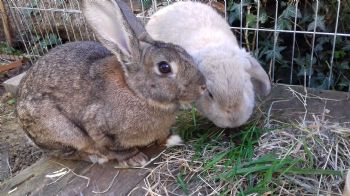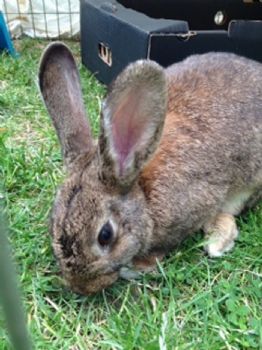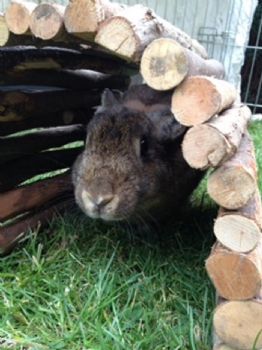 Elma
Age: 1
Breed: Medium
Sex: Female (Neutered)
Vaccinated: Yes
Date Added: 08/10/2017
Last Update: 12/12/2017
More Details:
Description: brown domestic rabbit
General health: good
Temperament: friendly
Type of home wanted: Elma and Jenga are a pair of rabbits who have found love in our care. They both found themselves in rescue after being found as strays, sadly no owners have been located for either rabbit, now as a happily bonded pair they are looking for a new forever home.

Elma and Jenga are both bold, confident, friendly rabbits. Both rabbits can be handled easily for health checks and grooming, though Jenga can be very wriggly. Both rabbits are diggers so they are going to need lots of space and interesting things to keep them amused.
How to Adopt this Rabbit
Elma is being rehomed through a rescue. For more information or to enquire about adoption please contact:
RSPCA Middlesex North West Branch
Middlesex
HA5 1RL

Tel: 020 89669688
Email: info@rspcamiddlesex.org.uk
Website: http://www.rspca-middlesex.org.uk› View all rabbits

Details: For more information on any of the beautiful rabbits or guinea pigs in our care please contact: SARAH or TRACY ON THE NUMBER OR EMAIL ADDRESS ABOVE. Please note we are a local RSPCA Branch working in and around Harrow,North West London, Watford and St Albans. we do not have a rescue centre for you to visit, as all the animals are cared for in private foster homes. If you are interested in any of the rabbits or guinea pigs seen here, arrangements can be made for you to visit them once a successful home visit has been completed.