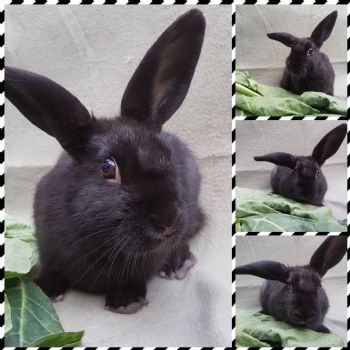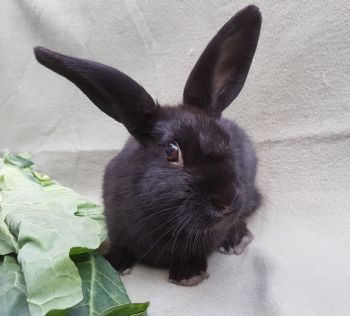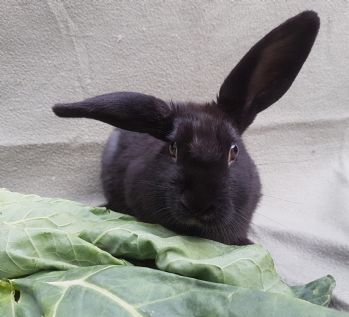 Pia
Age: < 1
Breed: Medium
Sex: Female
Location: Greater Manchester
Bonded: No
Vaccinated: Yes
Date Added: 05/10/2017
Last Update: 20/10/2017
More about Pia:
Pia is a very beautiful baby bunny who has come into our care having suffered unknown tragedy. It appears that she was abandoned by her owner and found herself on a car scrapyard. When staff at the yard found Pia she was collapsed and her back end covered in what we believe was a chemical burn, probably from something on the site. Pia has undergone a painful care regime of twice daily cleaning of her wound and medication. She was such a brave little lady who inspired us daily with her resillience. To look at her now you would never know anything had happened to her. Understandably grew wary of people during the treatment but now fully healed she has regained her confidnce and trust in humans and adores a fuss. She doesn't even run away when you pick her up any more.

The way to Pia's heart is through food. She has a phenomenon appetite for meadow and Timothy hay and leafy green veg. She also loves things to jump on and enjoys leaping ledges and sitting on boxes perusing the world. She is an incredibly clean baby and does all her toileting in her litter tray. Never a stray poop in sight.

Pia would make an amazing house rabbit who will love plenty of human company and probably a bunny friend too. She is approximately 4 months old and has been combi vacc, RHD2 vacc and microchipped. The branch will pay for neutering once she is old enough but can be bonded with a neutered male companion now.

Please call 0161 882 0680 option 4 to meet her!
How to Adopt this Rabbit
Pia is being rehomed through a rescue. For more information or to enquire about adoption please contact:
RSPCA Manchester & Salford Branch
565 Wilbraham Road, Chorlton, Manchester
Greater Manchester
M21 0AE

Tel: 0161 8820680
Email: rspcamcr_salford@btconnect.com
Website: http://www.rspca-manchesterandsalford.org.uk› View all rabbits

Details: ∑ All of our rabbits are micro-chipped, neutered and vaccinated against Myxomatosis and Viral Haemorrhagic Disease (VHD). To ensure rabbits are protected from these common diseases, VHD needs repeating every year and in some areas Myxomatosis needs repeating every 6 months, otherwise annually. We undertake a home visit for each rabbit prior to adoption; we aim to do this within one week of each reservation placed. We ask for an adoption fee of £40 per rabbit, £75 for a bonded pair. Rabbits are highly sociable mammals and should ideally live with another. Both rabbits must be neutered regardless of their sex, this is not only to prevent unwanted litters but also promotes good health long term and keeps hormone levels to a minimum. Adopted rabbits living on their own may only be re-homed indoors as house rabbits, requiring a lot of human attention and additional stimulation. When a rabbit is to be bonded with a potential adopterís rabbit, we ask that their rabbit is both neutered and up to date with vaccinations against Myxomatosis and Viral Haemorrhagic Disease (VHD). The best companion match when bonding two rabbits is a neutered male with a neutered female. In most instances, all initial bonding sessions will be carried out under RSPCA supervision to gauge how the rabbits will potentially get on together. When rabbits are to live outdoors then the RSPCA minimum size requirements for a hutch are 6ft x 2ft x 2ft - sheds are an ideal option. With rabbits requiring a minimum of 4-5 hours exercise every day, a secure run permanently attached to the hutch/shed is ideal. We are a registered charity: 232255.