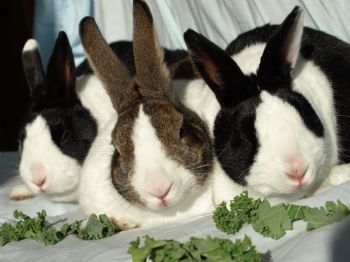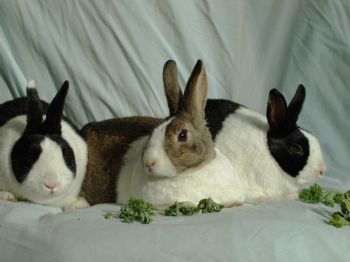 Jane, Lizzie, Mary
Age: 3
Breed: Dutch
Sex: Female (Neutered)
Location: Greater Manchester
Bonded: No
Vaccinated: Yes
Date Added: 25/07/2017
Last Update: 23/03/2018
I've been waiting 8 months for a home!
More about Jane, Lizzie, Mary:
Our beautiful ĎJane Austiní bunny ladies have been waiting for a home since May this year. We truly do not understand why this Ďinstantí family of furry friends have not been snapped up yet. Jane, Lizzie and Mary have been together since birth. They are now approx. 3 and half years old. They have come from a home of 24 rabbits and been the best of friends through thick and thin.
The girls were removed from a multi-rabbit household where many of the 24 bunnies were kept in cramped hutches stacked high to the ceiling. Despite this sheltered existence the girls are more confident than you would expect. They are lodging in a foster home where they enjoy the outdoor life they have always known but with plenty of freedom, peace and foraging.

This is what their adoring foster mum has to say about the girls: "Whoever adopts this trio of cuteness is in for a real treat, as they are great fun to watch always chasing each other round, fighting for food or piled on top of each other sleeping. The girls all have a close bond with each other but each has her own unique personality.
JANE is the most confident and will be the first to introduce herself on meeting. She is the rabbit in charge and will be the one to take control of any situation. Her favourite past time is running through her play tunnels, if there is a tunnel nearby she will always go through it never round it.

LIZZY is the outdoor girl, while the other two are still sleeping in bed she will be out in the run come rain or shine digging. She reverses up and down the run digging as she goes and has transformed my run which was full of grass to a barren wasteland in a few weeks.

MARY is the shy one and is not as confident as the other two but this shy creature transforms herself into a ferocious beast when food is around! She always makes sure she gets her third and will steal food out of the mouths of the other two! Her main hobby is sleeping and she stays in bed until about 3pm every day and seems to enjoy having the bed to herself to stretch out when the other two go off to play. I spoil her by taking her breakfast in bed and I think she enjoys eating her breakfast in peace after living with 4 other rabbits for most of her life. Potential adopters need to know that Mary has a cataract in her left eye but it is not causing her any trouble and is unlikely to do so in the future, although it may explain her more sedate behaviour.

All of the girls like being stroked and Mary and Lizzy donít mind being picked up but Jane prefers her feed on the ground. They are 3 lovely rabbits and would make great companions."
The girls will need a sizable outdoor enclosure to be able to meet their needs, for more information please contact the branch. The adoption fee for the 3 girls is just £70.
If you would like to adopt the girls contact us today!
Email rspcamcr_salford@btconnect.com or call 0161 882 0680.

How to Adopt this Rabbit
Jane, Lizzie, Mary is being rehomed through a rescue. For more information or to enquire about adoption please contact:
RSPCA Manchester & Salford Branch
565 Wilbraham Road, Chorlton, Manchester
Greater Manchester
M21 0AE

Tel: 0161 8820680
Email: rspcamcr_salford@btconnect.com
Website: http://www.rspca-manchesterandsalford.org.uk› View all rabbits

Details: ∑ All of our rabbits are micro-chipped, neutered and vaccinated against Myxomatosis and Viral Haemorrhagic Disease (VHD). To ensure rabbits are protected from these common diseases, VHD needs repeating every year and in some areas Myxomatosis needs repeating every 6 months, otherwise annually. We undertake a home visit for each rabbit prior to adoption; we aim to do this within one week of each reservation placed. We ask for an adoption fee of £40 per rabbit, £75 for a bonded pair. Rabbits are highly sociable mammals and should ideally live with another. Both rabbits must be neutered regardless of their sex, this is not only to prevent unwanted litters but also promotes good health long term and keeps hormone levels to a minimum. Adopted rabbits living on their own may only be re-homed indoors as house rabbits, requiring a lot of human attention and additional stimulation. When a rabbit is to be bonded with a potential adopterís rabbit, we ask that their rabbit is both neutered and up to date with vaccinations against Myxomatosis and Viral Haemorrhagic Disease (VHD). The best companion match when bonding two rabbits is a neutered male with a neutered female. In most instances, all initial bonding sessions will be carried out under RSPCA supervision to gauge how the rabbits will potentially get on together. When rabbits are to live outdoors then the RSPCA minimum size requirements for a hutch are 6ft x 2ft x 2ft - sheds are an ideal option. With rabbits requiring a minimum of 4-5 hours exercise every day, a secure run permanently attached to the hutch/shed is ideal. We are a registered charity: 232255.