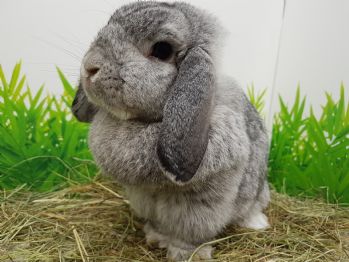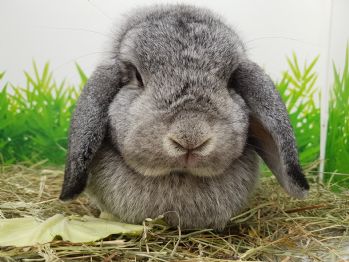 Miss Babs
Age: 2
Breed: English Lop
Sex: Female (Neutered)
Location: Greater Manchester
Bonded: No
Vaccinated: Yes
Date Added: 13/07/2017
Last Update: 22/08/2017
More about Miss Babs:
Miss Babs is a 2 year old voluptuous chinchilla lop who is here to break some hearts. She is gorgeous and she knows it. She is looking for a new home after being found stray in woodland along with her identical sister. They had obviously recently being dumped as the girls were in good condition. Sadly after a few weeks in our care the sisters had a family argument and had to be separated.

Miss Babs is confident in herself and knows what she wants: mainly food and freedom! She is always happy to come face to face with a handful of readigrass or veggies but will back away if she thinks your hand is encroaching on her personal space. She's tolerant of her weekly health checks though and only shows her dislike afterwards with a good stomp. When approached sensibly on ground level then head strokes and hand feeding are most welcome.

Miss Babs was neutered on the 26th of June so can be bonded with a neutered male to live indoors or out, or she could be a pampered single house rabbit. She enjoys her space but doesn't suffer fools gladly so any children in the home would need to be of secondary school age or above.

How to Adopt this Rabbit
Miss Babs is being rehomed through a rescue. For more information or to enquire about adoption please contact:
RSPCA Manchester & Salford Branch
565 Wilbraham Road, Chorlton, Manchester
Greater Manchester
M21 0AE

Tel: 0161 8820680
Email: rspcamcr_salford@btconnect.com
Website: http://www.rspca-manchesterandsalford.org.uk› View all rabbits

Details: · All of our rabbits are micro-chipped, neutered and vaccinated against Myxomatosis and Viral Haemorrhagic Disease (VHD). To ensure rabbits are protected from these common diseases, VHD needs repeating every year and in some areas Myxomatosis needs repeating every 6 months, otherwise annually. We undertake a home visit for each rabbit prior to adoption; we aim to do this within one week of each reservation placed. We ask for an adoption fee of £40 per rabbit, £75 for a bonded pair. Rabbits are highly sociable mammals and should ideally live with another. Both rabbits must be neutered regardless of their sex, this is not only to prevent unwanted litters but also promotes good health long term and keeps hormone levels to a minimum. Adopted rabbits living on their own may only be re-homed indoors as house rabbits, requiring a lot of human attention and additional stimulation. When a rabbit is to be bonded with a potential adopter's rabbit, we ask that their rabbit is both neutered and up to date with vaccinations against Myxomatosis and Viral Haemorrhagic Disease (VHD). The best companion match when bonding two rabbits is a neutered male with a neutered female. In most instances, all initial bonding sessions will be carried out under RSPCA supervision to gauge how the rabbits will potentially get on together. When rabbits are to live outdoors then the RSPCA minimum size requirements for a hutch are 6ft x 2ft x 2ft - sheds are an ideal option. With rabbits requiring a minimum of 4-5 hours exercise every day, a secure run permanently attached to the hutch/shed is ideal. We are a registered charity: 232255.