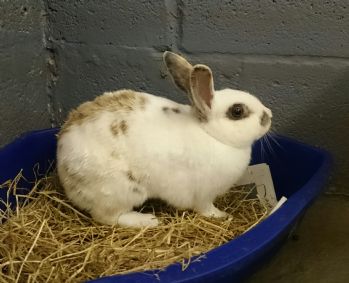 Eevee
Age: 2
Breed: Small
Sex: Female (Neutered)
Location: Greater Manchester
Bonded: No
Vaccinated: Yes
Date Added: 08/07/2017
Last Update: 16/11/2017
I've been waiting 5 months for a home!
More about Eevee:
Eevee was found straying and handed in to a vet, they traced her owner but they didnít want to take her back. She is a timid little bunny who needs a calm home with the patience and kindness to bring me out of her shell. She is not at all nasty but is scared when people try to pick her up and run away when people approach her.


How to Adopt this Rabbit
Eevee is being rehomed through a rescue. For more information or to enquire about adoption please contact:
Society for Abandoned Animals
Peggy Henderson Animal Sanctuary
Greater Manchester
M32 9UP

Tel: 0161 9735318
Email: saarabbits@hotmail.co.uk
Website: http://www.saarescue.co.uk› View all rabbits

Details: We have very many more rabbits looking for a new home. Why not come and visit us? We are open every day except Wednesdays and Christmas Day. Our opening hours are 12noon to 4.30pm. We are located off Dane Road in Sale (M60 J6 Sale Water Park and then follow signs for Sale A1644 and we are signed posted from there on.)
All potential rabbit adopters will have a pre-adoption home visit to ensure the home is appropriate to the needs of the rabbit and that everyone involved in caring for the rabbit is aware of the responsibilities that rabbit welfare entails. We will only be able to homecheck within one hours drive of the sanctuary in Manchester, but this still covers a really wide area so don't be put off.
If rabbits are to live outdoors, it is our policy to rehome the rabbits in pairs. Also outdoor rabbits must have a run available to them, and adequate shelter in winter (ideally a shed or garage).
If the rabbits are to live indoors we will home them individually, but bear in mind that they are social creatures and do prefer the company of other rabbits. In fact we regularly provide companions for peoples existing rabbits. If you are interested in a companion rabbit, we require your existing rabbit to be neutered (male and female) and vaccinated against VHD and Myxomatosis. We can bond rabbits for you and/or provide advice and support.
All our rabbits are fully vaccinated and neutered prior to rehoming. We require a non-refundable donation of £35 per rabbit. We also offer support to you for the life of your rabbit(s), we are always here to help if you adopt from us. Reg charity: 245426