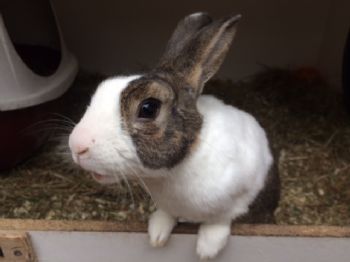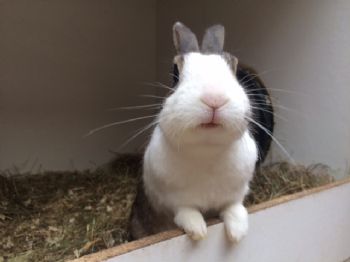 Hunter
Age: 3
Breed: Dutch
Sex: Male (Neutered)
Location: Greater Manchester
Bonded: No
Vaccinated: Yes
Date Added: 28/04/2017
Last Update: 22/06/2017
More about Hunter:
Say hello to Hunter, a remarkable rabbit who was 1 of 24 kept them in cramped, tiny hutches stacked high. He is around 3 years old and is a delightful little Dutch lad with a confident and cheeky nature.

Hunter is a helpful rabbit who enjoys following us on our health check rounds each week. We have to keep a very close eye on him as he will happily hop through any open pen door and we often find him in places where he shouldn't be! He likes to get under our feet in order to catch any falling treats that may drop his way (!) and we just love having his lovely little face around. He's easy to handle and tolerates being picked up, he'll settle for a stroke and despite his past he obviously enjoys human attention. Hunter was neutered on the 6th April so can be bonded from the 18th May.

He could live indoors either bonded or as a single house bunny, or out bonded with a neutered female. As he is a friendly and confident little lad he would be suitable to live in a family home. We have a special scheme at our branch for bunny bonders, please see our bonding information at the top on our website (top of this page!).

If you would like to adopt Hunter contact us today!

Email or call 0161 882 0680.
How to Adopt this Rabbit
Hunter is being rehomed through a rescue. For more information or to enquire about adoption please contact:
RSPCA Manchester & Salford Branch
565 Wilbraham Road, Chorlton, Manchester
Greater Manchester
M21 0AE

Tel: 0161 8820680
Email: rspcamcr_salford@btconnect.com
Website: http://www.rspca-manchesterandsalford.org.uk› View all rabbits

Details: · All of our rabbits are micro-chipped, neutered and vaccinated against Myxomatosis and Viral Haemorrhagic Disease (VHD). To ensure rabbits are protected from these common diseases, VHD needs repeating every year and in some areas Myxomatosis needs repeating every 6 months, otherwise annually. We undertake a home visit for each rabbit prior to adoption; we aim to do this within one week of each reservation placed. We ask for an adoption fee of £40 per rabbit, £75 for a bonded pair. Rabbits are highly sociable mammals and should ideally live with another. Both rabbits must be neutered regardless of their sex, this is not only to prevent unwanted litters but also promotes good health long term and keeps hormone levels to a minimum. Adopted rabbits living on their own may only be re-homed indoors as house rabbits, requiring a lot of human attention and additional stimulation. When a rabbit is to be bonded with a potential adopter's rabbit, we ask that their rabbit is both neutered and up to date with vaccinations against Myxomatosis and Viral Haemorrhagic Disease (VHD). The best companion match when bonding two rabbits is a neutered male with a neutered female. In most instances, all initial bonding sessions will be carried out under RSPCA supervision to gauge how the rabbits will potentially get on together. When rabbits are to live outdoors then the RSPCA minimum size requirements for a hutch are 6ft x 2ft x 2ft - sheds are an ideal option. With rabbits requiring a minimum of 4-5 hours exercise every day, a secure run permanently attached to the hutch/shed is ideal. We are a registered charity: 232255.