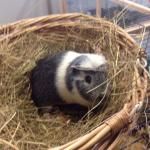 Guinea Pig Boys
Age: 1
Breed: Small
Sex: Male (Neutered)
Location: Northamptonshire
Bonded: Yes, see below.
Vaccinated: No
Date Added: 14/04/2017
Last Update: 18/03/2018
I've been waiting 11 months for a home!
More about Guinea Pig Boys:
Description: Handsome
General health: Good
Temperament: Friendly
Type of home wanted: We have 3 very handsome male guinea pigs who are waiting to be rehomed. They are all bonded with females.
Guinea Pig Boys must be rehomed with:
Guinea pig girls
Age: 2
Breed: Small
Sex: Female
Vaccinated: No
Date Added: 12/09/2017
Last Update: 18/03/2018
I've been waiting 6 months for a home!
More Details:
Description: Groups and pairs of girls all looking for new homes
General health: Good health
Temperament: Quite timid but will become more confident with regular handling and patience

How to Adopt this Rabbit
Guinea pig girls is being rehomed through a rescue. For more information or to enquire about adoption please contact:
Animals IN Need
London Road, Little Irchester
Northamptonshire
NN8 2EH

Tel: 01933 278080
Email: admin@animals-in-need.org
Website: http://www.animals-in-need.org › View all rabbits

Details: Rescue and rehoming of all domestic animals and wildlife. Incorporating Maxicare - saving death row dogs