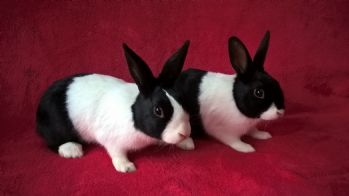 Tombliboo
Age: < 1
Breed: Dutch
Sex: Male (Neutered)
Location: Middlesex
Bonded: Yes, see below.
Vaccinated: Yes
Date Added: 11/04/2017
Last Update: 18/09/2017
I've been waiting 5 months for a home!
More about Tombliboo :
Description: 7 months old Black & white
General health: good
Temperament:friendly, dominent
Type of home wanted: This pair of little cuties came to us, along with mum, dad and siblings, having being abandoned in a flat when their owners moved and left them behind.

As they have grown they have developed their own little personalities, likes and dislikes. Haahoo, the female is lovely, like most rabbits she isn't crazy about being picked up and can give you the run around, but she loves a stroke and will always come hopping over to have a tickle. Tombliboo is also not keen on being picked up, He can be a territorial little fellow, and will protect his lady and stuff from any unwanted attention. He is prone to lung when changing food bowls and litter trays, and sometimes will bite.

Despite their little foibles these rabbits are bold, inquisitive little beings who are desperately searching for a loving place to call home. They love having lots of toys and things to explore, they can be cheeky little monkeys especially at food time, a tasty treat is always gratefully received. Though they are small rabbits they love having lots of room to zip about and enjoy themselves.

Tombliboo and Haahoo are great fun rabbits, ideally looking for a rabbit lover willing to put in a bit of extra time and effort to help Tombliboo and his little ways. These rabbits would not be suitable for homing with children. They would be best suited to life as outdoor rabbits.
Tombliboo must be rehomed with: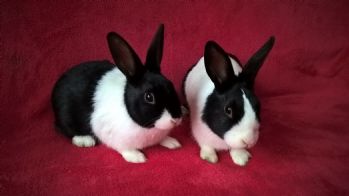 Haahoo
Age: < 1
Breed: Dutch
Sex: Female (Neutered)
Vaccinated: Yes
Date Added: 11/04/2017
Last Update: 18/09/2017
I've been waiting 5 months for a home!
More Details:
Description: 7 months black & white
General health: good
Temperament: frienldy
Type of home wanted: See Tombliboo
How to Adopt this Rabbit
Haahoo is being rehomed through a rescue. For more information or to enquire about adoption please contact:
RSPCA Middlesex North West Branch
Middlesex
HA5 1RL

Tel: 020 89669688
Email: info@rspcamiddlesex.org.uk
Website: http://www.rspca-middlesex.org.uk› View all rabbits

Details: For more information on any of the beautiful rabbits or guinea pigs in our care please contact: SARAH or TRACY ON THE NUMBER OR EMAIL ADDRESS ABOVE. Please note we are a local RSPCA Branch working in and around Harrow,North West London, Watford and St Albans. we do not have a rescue centre for you to visit, as all the animals are cared for in private foster homes. If you are interested in any of the rabbits or guinea pigs seen here, arrangements can be made for you to visit them once a successful home visit has been completed.