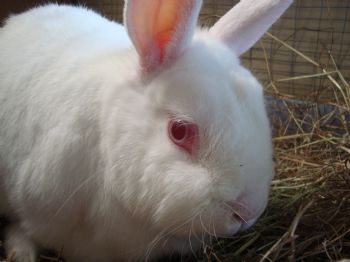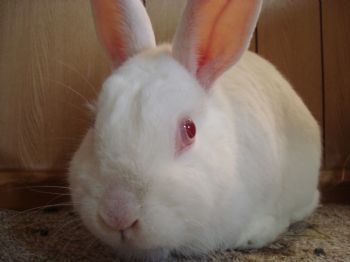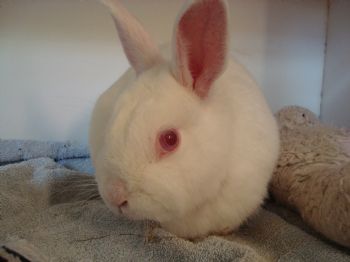 Snowbell
Age: 6
Breed: Small
Sex: Female (Neutered)
Location: Yorkshire
Bonded: No
Vaccinated: Yes
Date Added: 02/04/2017
Last Update: 09/05/2017
More about Snowbell:
Snowbell is a sweet little 6 year old female. She's spayed and vaccinated against myxomatosis, VHD1 and VHD2. To adopt Snowbell you must be able to provide a minimum of a 6ft hutch with a permanently attached 6ft run, or a minimum of a 6ft x 6ft pen to house her in at night as an indoor bun. Snowbell would like a home where she can be bonded to a neutered male rabbit.

Acomb Rabbit Rescue is a small non-profit rescue run from our home in Acomb, York. We take in unwanted rabbits and give them a chance of finding a new home. All rabbits are neutered, wormed, and vaccinated for myxomatosis and VHD before adoption. We ask for a minimum of a 6x2 hutch with 24/7 access to a permanently attached 6x4 run (or the indoor equivalent of 36 square feet). Of course, the bigger the better! A home visit will be required before adoption, so we can match the right bun with the right owner. We only rehome buns to live in pairs or groups with other buns. We ask for a minimum donation of £50 to adopt a rabbit. This goes towards the neutering and vaccination costs. We do not breed any rabbits.
How to Adopt this Rabbit
Snowbell is being rehomed through a rescue. For more information or to enquire about adoption please contact:
Acomb Rabbit Rescue
York
Yorkshire
YO26

Tel: 07932 593865
Email: acombrabbitrescue@hotmail.co.uk
Website: http://www.acombrabbitrescue.org.uk› View all rabbits