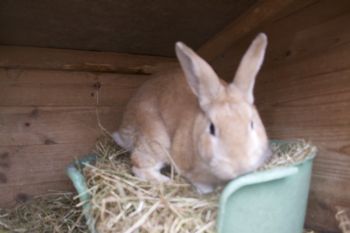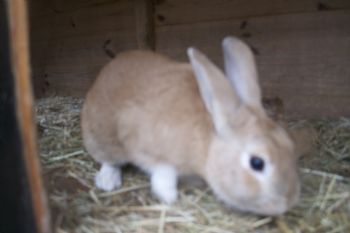 Joey
Age: < 1
Breed: Medium
Sex: Male (Neutered)
Location: Nottinghamshire
Bonded: No
Vaccinated: Yes
Date Added: 16/03/2017
Last Update: 24/04/2017
More about Joey:
Description: Yo! My name is Joey! I am 6 months old and am an cream, medium sized buck.

About me: I arrive at the centre on the 5/2/17 as my previous owners no longer wanted me.

Temperament: I am extremely friendly and playful. I love to cause mischief and likes to tug, throw and chew up my toys. I am good to handle but does have the habit of spraying and digging.

Type Of Home Wanted: I would be suitable for a child and upwards. I currently housed outside but could make a nice house rabbit too. I need to be rehomed to a female rabbit around the same age and energy as me.

General Health: I am up to date with my vaccinations and have been castrated. I am in good health.

Adoption fee: To help the charity cover the costs of neutering, vaccinations and housing costs. We ask for a minimal donation of £55.

If you think you can offer Joey a "furever home" please do not hesitate to contact us using the details below. We are not open to the public and viewing is by appointment only.

--------------------------------------
For the welfare of the rabbit we do ask to do a home check. Please email us a photo of your set up ( quicker) or bring one with you to the appointment if you need advice.

What we look for is sufficient space. At minimum a hutch at 6ft x 2ft x 2ft with an attached run of 6ft squared. That the accommodation is fox proof, that the rabbit has a partner and that you'll be able to provide for the animal.

Please note that you cannot just put two rabbits together and think they will get along. Bonding can be a lengthy process. We appreciate how nerve wracking it can be bonding rabbits. Though we do advise you do your homework we are always happy to offer advice. If your rabbit is bonding to one of our own we do offer speed dating. This is a last option where, depending on availability of space, you can bring your rabbit in to be bonded to one if our own under the eye and experience of our staff.

Please note we cannot reserve rabbits unless you have seen them in person. Rabbits are on a first come, first served basis. We can only reserve rabbits for a week, otherwise the next interested person gets priority. Unfortunately, we have had many people mess the charity around, please don't add to the number.

Thanks for viewing! :3
How to Adopt this Rabbit
Joey is being rehomed through a rescue. For more information or to enquire about adoption please contact:
Brinsley Animal Rescue
Brinsley
Nottinghamshire
NG16 5AX

Tel: 01773 712999
Email: info@brinsleyanimalrescue.org
Website: http://www.brinsleyanimalrescue.org› View all rabbits

Details: Potential adopters are welcome to visit but we ask that you email or ring first as we are based at home and aren't always in. We do carry out home checks for every single animal we rehome. We have a suggested donation of £40 for male rabbits and £45 for females which partly covers our costs of spaying and neutering. We always do home checks and get rabbits to potential homes as soon as possible.