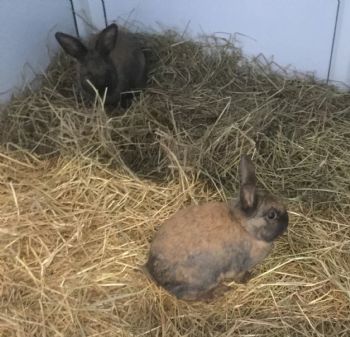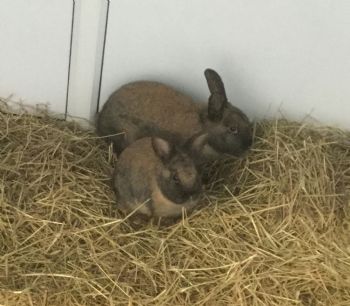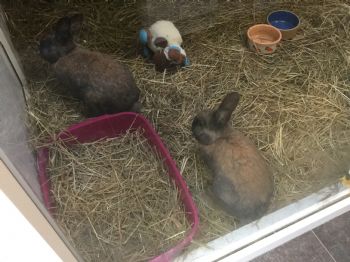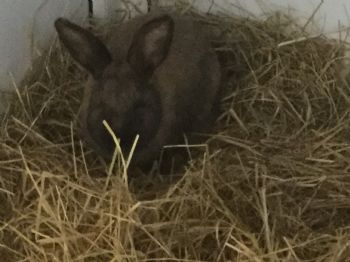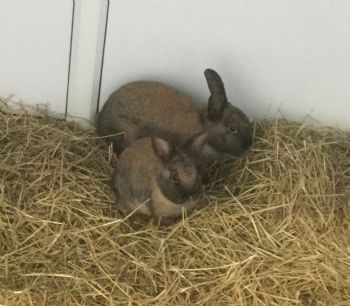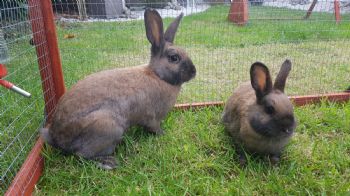 Flora & Fleur
Age: < 1
Breed: Small
Sex: Female (Neutered)
Location: Cheshire
Bonded: No
Vaccinated: Yes
Date Added: 28/02/2017
Last Update: 17/11/2017
I've been waiting 10 months for a home!
More about Flora & Fleur:
We call these two little and large.† Flora is the bigger bunny and Fleur is so small she almost looks like a Netherland Dwarf; very pretty bunnies who are very close to each other.

These two are still quite nervous but we see their confidence growing all the time; with the extra love and attention they would get in their forever home, this would really help them to come out of their shell.

They are quite wary but they have gone from hiding away in their hutch to now taking food out of our hands. Fleur is the more confident out of the two and will be the first to come and take her veggies, then Flora will follow her sister.

They currently live in a two story hutch but donít like to use the ramp so would be better as house bunnies or with a large one storey space to live in.

When it comes to their food, they were quite picky when they arrived but are now enjoying their food more.† They prefer to have readigrass and some timothy hay in their diet and enjoy their leafy greens (spring greens, kale, cauliflower leaves).

They are not fond of being handled at the moment and can be a little difficult to pick up but once you have hold of them are quite calm.

These two are very special bunnies who just need a bit of TLC.


How to Adopt this Rabbit
Flora & Fleur is being rehomed through a rescue. For more information or to enquire about adoption please contact:
RSPCA Altrincham Cheshire Branch
Cheshire

Tel: 01612862503
Email: rspca.altrincham.cheshire@googlemail.com
Website: http://www.rspca-altrincham-cheshire.org.uk› View all rabbits