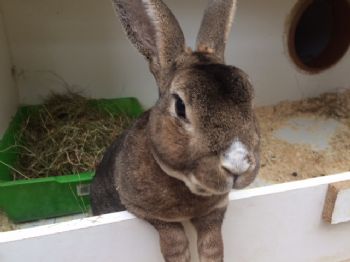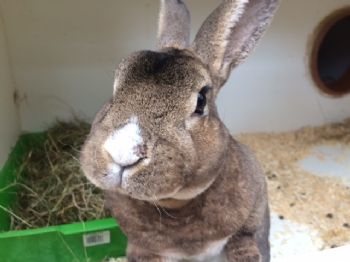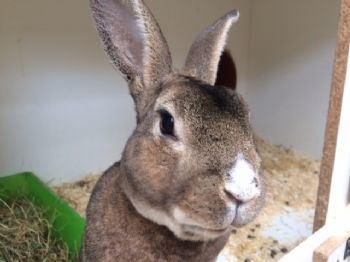 Chipper
Age: 2
Breed: Rex Standard
Sex: Male (Neutered)
Location: Greater Manchester
Bonded: No
Vaccinated: Yes
Date Added: 09/12/2016
Last Update: 09/08/2017
I've been waiting 8 months for a home!
More about Chipper:

Chipper is a handsome brown and white Rex rabbit around 2 years old. He is looking for a new home after he was rescued from filthy, cramped conditions. When he first arrived his nails were so long that they were curling back on themselves so he is now much more comfortable and enjoying a clean and spacious enclosure.


In the short time we have had Chipper he has really come out of his shell. Understandably Chipper didn't have a good association with people so we have been gently coaxing him with food and allowing him to settle in slowly. He is loving all the extra space and is making good use of every inch. We normally find him on top of a wooden castle or in a tunnel. We recently made a breakthrough and were allowed two lovely head strokes in return for a treat so we can see that Chipper is making progress but we need to take it slow and keep it on his terms. We are sure that once fully settled in a new home he will be hopping out to say hello and readily enjoying a tickle. Seeing his slow but sure transformation is just a delight and will no doubt bring much pleasure to his new family too.


Chipper has won the proud prize of being a 'staff favourite'; Deb tells us how he won the title:

'The reason why I love Chipper is because he came in with lots of other bunnies all of which were scared to death having lived a very sheltered life, and we thought that it'd be impossible to bring them round. But after just a couple of weeks he was grabbing veg out of my hand and rattling at his pen door for more food and attention. I couldn't believe the transformation. Now he's too cheeky if anything, pulling at my coat sleeve if I dare to cuddle him for too long or climbing up the wooden castle to get an extra mouthful of ready grass as I walk past, He's just great! It helps that he's beautiful too, such soft, plush fur you just want to rub your face in him, he'd never allow it obviously. I have a picture of him living free range in someone's living room, jumping up onto the sofa and stealing a biscuit off the coffee table or throwing a cardboard box out of his way which his owner thought he'd enjoy, he's such a character. Understandably there are still times when something spooks him or signs of his past show, but generally he's just an absolute credit to rabbit kind. '

Chipper is looking for a home with a patient and understanding owner who will allow him to go about his business without too much handling or pressure to socialise with people in the early days. He was neutered on the 1st of November so can be reserved for bonding with a neutered female from the 13th of December. He would be the perfect companion for a bunny lady living outdoors who needs some company or someone seeking a handsome hunk for the house.

How to Adopt this Rabbit
Chipper is being rehomed through a rescue. For more information or to enquire about adoption please contact:
RSPCA Manchester & Salford Branch
565 Wilbraham Road, Chorlton, Manchester
Greater Manchester
M21 0AE

Tel: 0161 8820680
Email: rspcamcr_salford@btconnect.com
Website: http://www.rspca-manchesterandsalford.org.uk› View all rabbits

Details: · All of our rabbits are micro-chipped, neutered and vaccinated against Myxomatosis and Viral Haemorrhagic Disease (VHD). To ensure rabbits are protected from these common diseases, VHD needs repeating every year and in some areas Myxomatosis needs repeating every 6 months, otherwise annually. We undertake a home visit for each rabbit prior to adoption; we aim to do this within one week of each reservation placed. We ask for an adoption fee of £40 per rabbit, £75 for a bonded pair. Rabbits are highly sociable mammals and should ideally live with another. Both rabbits must be neutered regardless of their sex, this is not only to prevent unwanted litters but also promotes good health long term and keeps hormone levels to a minimum. Adopted rabbits living on their own may only be re-homed indoors as house rabbits, requiring a lot of human attention and additional stimulation. When a rabbit is to be bonded with a potential adopter's rabbit, we ask that their rabbit is both neutered and up to date with vaccinations against Myxomatosis and Viral Haemorrhagic Disease (VHD). The best companion match when bonding two rabbits is a neutered male with a neutered female. In most instances, all initial bonding sessions will be carried out under RSPCA supervision to gauge how the rabbits will potentially get on together. When rabbits are to live outdoors then the RSPCA minimum size requirements for a hutch are 6ft x 2ft x 2ft - sheds are an ideal option. With rabbits requiring a minimum of 4-5 hours exercise every day, a secure run permanently attached to the hutch/shed is ideal. We are a registered charity: 232255.