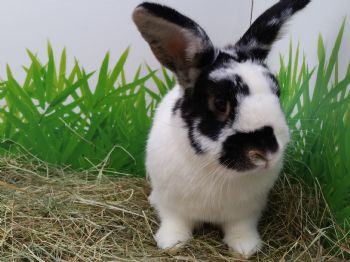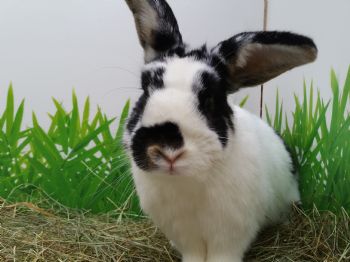 Bobby
Age: 1
Breed: Medium
Sex: Male (Neutered)
Location: Greater Manchester
Bonded: No
Vaccinated: Yes
Date Added: 06/12/2016
Last Update: 23/03/2017
More about Bobby:
Bobby is an 12 month old bunny who has been in our care for 7 months recovering from unimaginable cruelty. To read more about his story please see our blog:
http://rspcamcrsalford.blogspot.com/2016/05/bobby-baby-bunny.html

Watch Bobby's video here: https://youtu.be/TOv6C2Mk1d0

Bobby is our little fighter and certainly one of our rehabilitation triumphs for 2016. Bobby is the type of animal that we loose sleepless nights over, motivate us to get up in the morning and make our work so worthwhile when they finally find a forever home. We are now appealing for that special forever home for this wonderful young chap who is desperate to find a place of his own where he can take over your heart and your home.

Bobby loves to binky and is yearning for the opportunity for more space (room of his own or free range) so he can practice for the bunolympics. Although he is in a 7ft pen he really wants to play out more and become a little adventurer. Now Bobby is well he has discovered the joy of cardboard boxes and dig boxes. Previously he just enjoyed running through tunnels and sitting on top of a box, as a vantage point, but nowadays he loves to play. He enjoys shredding newspaper and chewing cardboard boxes and it keeps him occupied for hours.

It is difficult for us to ascertain if Bobby would appreciate the company of other rabbits, as he is frequently marking his territory, including spraying urine in his foster home where other rabbits live nearby. His toilet habits have worsened of late and is no longer using his litter tray, so most people would find it difficult to have him as a house rabbit, although this potentially might improve if he lives on his own. It's hardly surprising he is so defensive towards other rabbits but at the same time we do not want to rule out him having a companion. He is used to living alongside other animals including a small dog, who he is not remotely concerned about. It may be more suitable for him to (exceptionally) live alone outdoors so long as someone was out most days with him, maybe pottering in the garden.

If you can offer this little trooper a home for life then please get in touch.

Please call 0161 882 0680 option 4 to meet him!


How to Adopt this Rabbit
Bobby is being rehomed through a rescue. For more information or to enquire about adoption please contact:
RSPCA Manchester & Salford Branch
565 Wilbraham Road, Chorlton, Manchester
Greater Manchester
M21 0AE

Tel: 0161 8820680
Email: rspcamcr_salford@btconnect.com
Website: http://www.rspca-manchesterandsalford.org.uk› View all rabbits

Details: ∑ All of our rabbits are micro-chipped, neutered and vaccinated against Myxomatosis and Viral Haemorrhagic Disease (VHD). To ensure rabbits are protected from these common diseases, VHD needs repeating every year and in some areas Myxomatosis needs repeating every 6 months, otherwise annually. We undertake a home visit for each rabbit prior to adoption; we aim to do this within one week of each reservation placed. We ask for an adoption fee of £40 per rabbit, £75 for a bonded pair. Rabbits are highly sociable mammals and should ideally live with another. Both rabbits must be neutered regardless of their sex, this is not only to prevent unwanted litters but also promotes good health long term and keeps hormone levels to a minimum. Adopted rabbits living on their own may only be re-homed indoors as house rabbits, requiring a lot of human attention and additional stimulation. When a rabbit is to be bonded with a potential adopterís rabbit, we ask that their rabbit is both neutered and up to date with vaccinations against Myxomatosis and Viral Haemorrhagic Disease (VHD). The best companion match when bonding two rabbits is a neutered male with a neutered female. In most instances, all initial bonding sessions will be carried out under RSPCA supervision to gauge how the rabbits will potentially get on together. When rabbits are to live outdoors then the RSPCA minimum size requirements for a hutch are 6ft x 2ft x 2ft - sheds are an ideal option. With rabbits requiring a minimum of 4-5 hours exercise every day, a secure run permanently attached to the hutch/shed is ideal. We are a registered charity: 232255.