Woody
Age: 4
Breed: Rex Standard
Sex: Male (Neutered)
Location: Essex
Bonded: Yes, see below.
Vaccinated: Yes
Date Added: 03/01/2016
Last Update: 26/08/2017
I've been waiting 20 months for a home!
More about Woody:
See Wendy's description
Woody must be rehomed with: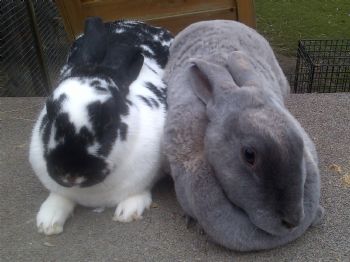 Wendy
Age: 4
Breed: Rex Standard
Sex: Female
Vaccinated: Yes
Date Added: 03/01/2016
Last Update: 26/08/2017
I've been waiting 20 months for a home!
More Details:
**Please note that this account is run by a small group of volunteers who are seeking to assist individuals and sanctuaries by advertising their rabbits to help them find their forever homes. This rabbit is being advertised on behalf of a sanctuary near Colchester**

Wendy and Woody are a lovely pair of rex bunnies who have found themselves homeless through no fault of their own. They are both about two years old and will require large accommodation to help keep them fit, active and interested. The Rabbit Welfare Association recommends a minimum hutch size of 6ft x 2ft x 2ft with attached, secure run of at least 8ft x 4ft to allow the bunnies to exercise and show their natural behaviour at all times. We would recommend that Wendy is also spayed in order to prevent uterine cancer which is very common in unspayed females.

If you are interested in offering these lovely bunnies their forever home, please do get in touch. A minimum adoption fee of £25 per rabbit applies (payable directly to the sanctuary).
How to Adopt this Rabbit
Wendy is being rehomed by a private individual. For more information please contact:
The volunteer team
Colchester

Email: Essexbunnyhelp@outlook.com
› View all rabbits