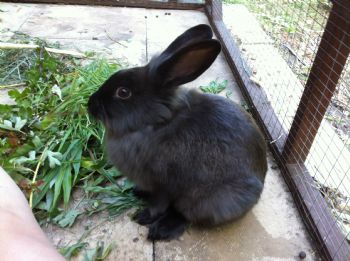 Sprüngli
Age: 3
Breed: Lionhead
Sex: Female (Neutered)
Location: Essex
Bonded: No
Vaccinated: Yes
Date Added: 19/10/2015
Last Update: 20/05/2018
I've been waiting 31 months for a home!
More about Sprüngli:
*Sprungli came down with a mild case of myxomatosis last October and has recently had surgery to correct the hole it has left in her nose and possibly needs one more minor surgery to finish the job before rehoming, but I am happy to take enquiries if you think she is the perfect bun for you. Experienced homes only for this one!*

Lacking mischief in your life? Feeling deprived of an attention-seeking furry who demands ALL of your attention? Then look no further than Sprüngli.

Sprüngli is a bunny with a massive personality. She was born here in March 2015 to a rescue bunny who arrived the day before she gave birth! She had four daughters of which Sprüngli is one of them. Ever since she came out the nest she has been a bit of an attention seeker, she's very possessive of your time and attention and hates it when she's not the centre of your world. For this reason I separated her from her sister Lindt who she had been living with, because Lindt was getting bullied and unhappy.

Sprüngli has been a bit of a nutter ever since she came out of the nest, so will need a very special home where she will get lots of attention. She is very human-orientated and extremely demanding, which makes her an entertaining and interactive little companion. She seems to think that humans exist for the sole purposes of feeding her (obviously) and providing her with a body-temperature climbing frame. As soon as you sit down with her she will jump on your lap and clamber all over you, and if you stupidly bend over with your back to her, she'll have jumped on your back before you know it. She binkies whenever she sees someone coming, and loves to sit next to you and groom you, scrabble at your trousers...but she expects the same attention in return. One time several months ago I dared to just sit and read a book in her enclosure and she took a massive chunk out of the book in a tantrum that I wasn't paying her my full attention. Being Sprüngli's mum or dad will be a bit like having an attention-seeking toddler in your household. She gets bored extremely easily and will need a large range of toys and environmental enrichment that changes regularly to keep her occupied. She's a tidy girl, using just one place in one litter tray to do all her poop, and is in great health.

With this delight comes challenges. Sprüngli is extremely dominant and has not taken kindly to offers of companions thus far. I genuinely have no idea what sort of bunny Sprüngli might bond with, as she is much more human-centric than bunny-centric. I'd be happy to give it a go, as I'm sure there must be somebun out there for her somewhere, but I don't think she will be an easy bond or a bunny for an inexperienced home.

Exceptionally, I *might* be prepared to let her go to a solo housebunny home if her living accommodation will be in a place in the hub of the household and if the owner is home a lot of the time - and likely to have similar circumstances that will allow this for a number of years - to give her lots of attention. She does get under your feet a lot so is probably not suitable for a home where there are people with mobility problems or young children.

Sprüngli will need a lot of space, interaction and toys to help direct her energy. As a minimum I ask for around 60 square feet of permanently accessible space. If she's going to be outdoors with a companion, this is the equivalent of a 6*2 hutch with a 6*8 run/aviary permanently attached, or a 6*8 shed with a large shelf or raised hutch, for example. Sprüngli likes to climb so a shed/aviary with some height to it would be ideal so that she can clamber up onto shelves and platforms and look out at the world from high up. For their own safety, I do not rehome rabbits where free ranging is the main or only form of exercise or where there is unsupervised free ranging. If she is going to be a house bunny she will need a completely rabbit-proofed area with a large enclosure to keep her secure and safe when she's not being supervised. I might have mentioned that she's a particularly boisterous little bean, so her enclosure would need to have a roof and relatively small bars so that she can't get herself stuck.

I do homecheck and I don't like bunnies to travel long distances for their forever home, but please do get in touch if you're within a reasonable distance of Essex and would be interested in offering Sprüngli her forever home. She's been here over a year now and it's such a shame that she hasn't got her forever home yet as she's the most amazing bunny. I'd keep her if I could, but I don't have the time to give her the level of 1-1 attention that she needs. She is neutered and vaccinated against myxomatosis, RHD1 and RHD2 and her new owner will need to commit to keeping up to date with these vaccinations.

If you think you have the perfect home for Sprungli and can offer what she needs in the way of accommodation and an understanding of her demanding ways, then please do get in touch. I rescue and rehome rabbits in my spare time (whatever that is) so please do bear with me if it takes a few days for me to get back in touch with you.
How to Adopt this Rabbit
Sprüngli is being rehomed through a rescue. For more information or to enquire about adoption please contact:
Alison
Chelmsford

Email: invisabuns@gmail.com
› View all rabbits