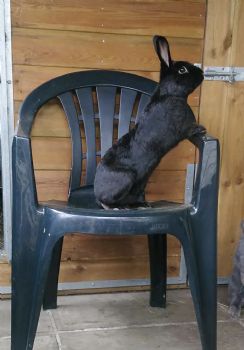 Rosie
Age: 3
Breed: Medium
Sex: Female (Neutered)
Location: Essex
Bonded: Yes, see below.
Vaccinated: Yes
Date Added: 14/06/2015
Last Update: 20/05/2018
I've been waiting 35 months for a home!
More about Rosie:
Rosie and Lucy were born here and have now just had their third birthday in rescue without any serious interest :( Please do consider them if you are looking for a beautiful pair of bunnies, it would be lovely to see them in a fabulous new home soon.

They are both very healthy and have never been to the vets for anything other than their spays and vaccinations; they are vaccinated against myxomatosis, RHD1 and RHD2, and their new owner will need to commit to keeping up to date with all their vaccinations.

Rosie and Lucy are a wonderful, happy, healthy pair of little bunnies who are looking for their forever home together. Their mum arrived here at 5pm on 12th March 2015, and by the time I got up the following morning, she had given birth to four babies! These girls have always been together so have a very strong bond. These are a really sweet, happy, healthy pair; they are very curious and love being given new things to sniff, explore and rummage around in.

Rosie, the black one, is a beautiful, classic bunny shaped bunny with silky soft fur. Black bunnies are often very hard to rehome for some reason, people seem to think they are 'boring' but I think they are beautiful, and Rosie is no exception.

She is a boisterous, cheerful bunny who loves to potter around and munch on hay. She has a mad few moments where she runs around crazily, but she also loves to lie with her sister and take a nap. There are definitely times of the day when the pair of them spring around, and times of the day when they can barely bring themselves to emerge from their little hidey hole to say hi.

Lucy is a stunning beautiful bluey-grey colour with a smidge of a lionhead mane around her face and bum. Lucy is a very nosey little lady who will always come over to see what you're up to and to see what offerings of food you may have brought her. She has a lovely calm, gentle demeanour and beautifully soft, silky fur.

Because of their quiet nature, they would suit an adult only home or home with older children, with an understanding owner who will take the time to build trust and get to know them, for instance by sitting in their enclosure and reading a book. They would not be suitable for a home with young children or boisterous other animals such as dogs.

As these are young, health, lively bunnies, they will require large accommodation with lots of things like hidey holes, tunnels and shelves to stimulate their interest and curiosity. As a minimum, I ask for 60 square feet of permanently accessible, predator proof accommodation - this can be achieved by a 6*2 hutch with a 6*8 run, or a 6*4 shed with a 6*6 run/aviary, for example. If indoors and allowed to free range indoors when supervised, the same size requirements apply as they still need as much space to mooch about in all day. If you haven't got accommodation yet, please do ask me before buying as so much stuff available in the shops just isn't suitable in my humble opinion!

If you're interested in offering this beautiful pair their forever home, then please do get in touch.
Rosie must be rehomed with: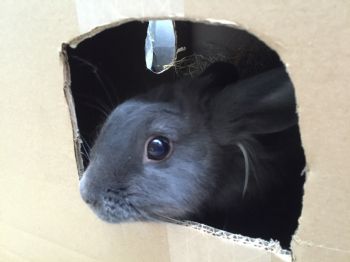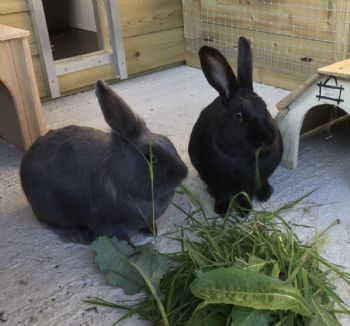 Lucy
Age: 3
Breed: Lionhead
Sex: Female (Neutered)
Vaccinated: Yes
Date Added: 14/06/2015
Last Update: 20/05/2018
I've been waiting 35 months for a home!
More Details:
See description above (or below, depending on which order they appear!)
How to Adopt this Rabbit
Lucy is being rehomed through a rescue. For more information or to enquire about adoption please contact:
Alison
Chelmsford

Email: invisabuns@gmail.com
› View all rabbits