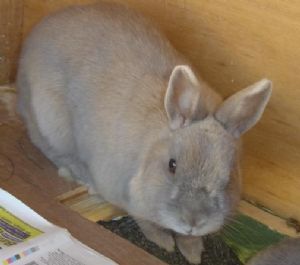 Mea
Age: 4
Breed: Netherland Dwarf
Sex: Female (Neutered)
Location: Gloucestershire
Bonded: Yes, see below.
Vaccinated: Yes
Date Added: 20/06/2010
Last Update: 03/11/2013
I've been waiting 42 months for a home!
More Details:
Mea must be rehomed with:
Mia
Age: 4
Breed: Netherland Dwarf
Sex: Female (Neutered)
Vaccinated: Yes
Date Added: 30/05/2010
Last Update: 03/11/2013
I've been waiting 43 months for a home!
More Details:
These two girls are the cheekiest, most clever little terrors!

Absolute tom boys, encased in the prettiest of covers, and definately not rabbits for anyone without previous experience of just how cunning some can be!

I apologise for the photo, and, if I get time I will take some better ones.

These minxes led their previous owner such a merry dance that she was utterly beside herself. She bought them from a breeder as 'suitable for young children'. She got them neutered and really tried her utmost to get it to work.

They would not litter train, they trashed everything, and basically set out to prove rabbits are not the easiest of pets! They led her a merry dance, literally, making themselves impossible to catch and tame. And, I imagine they chuckled to themselves with glee when she had to admit defeat.

So, here they are. Virtually litter trained, I am able to pick them up, but I am aware they hate being picked up. They want to have their own way all of the time and continue their favourite sport, human baiting!

They are outdoors in a 6 foot hutch with access to a run double the size during the day.

If you love rabbits and do not worry about having two balls of high speed fur jumping everywhere, they would make extremely entertaining house rabbits. But, I cannot, hand on heart, say they will be good house bunnies!

So, a huge, safe outdoor home will be very acceptable.

The blue otter bunny is the tamest, I am still having to try with the sable!
How to Adopt this Rabbit
Mia is being rehomed through a rescue. For more information or to enquire about adoption please contact:
Windwhistle Warren Rabbit and Guinea Pig Rescue
Windwhistle Warren Rabbit and Guinea Pig Rescue
Gloucestershire
GL14 1QT

Tel: alice@windwhistle2712.fslife.co.uk
Email: alice@windwhistle2712.fslife.co.uk
Website: http://www.windwhistlewarren.org.uk

Details: I run my rescue from home and I am usually able to make appointments at a mutually convenient time! I am happy to answer e mails about general queries. If you need me to ring you please advise a land line number if at all possible. My aim is for my rescue rabbits and guinea pigs to have better when they are re homed than I can offer them here.