Long-Stay Rabbits Looking for New Homes
The rabbits below have all been in rescue between 10 months and 5 years, waiting for the right person to come along and offer them a home. You can find even more long-stay rabbits here: rabbits waiting for a home.
Please share them and help find them a home:
Stanley & Alice - Sunderland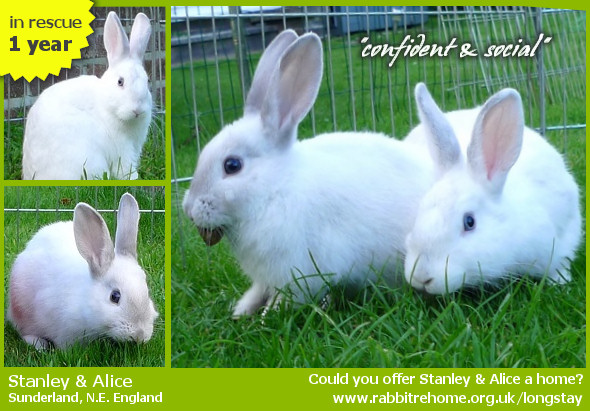 Stanley was a very nervous rabbit when he first came into rescue, but after meeting Alice he really came out of his shell. He and Alice are confident, curious and outgoing bunnies that love getting strokes and jumping around playing. Despite their great personalities they've been waiting in rescue over a year for someone to want them!
Could they be the bunnies for you? To find out more contact:
Paws for Thought
Sunderland, Tyne & Wear
Tel: 0191 5491982
Email: rabbitspawzforthought@gmail.com
Website: www.pawzforthought.org.uk
Danger & Daisy - York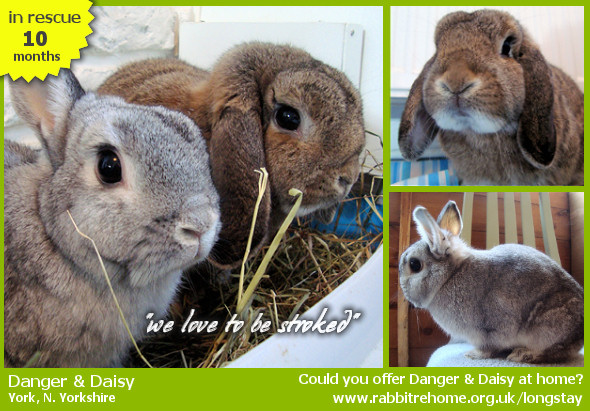 This cute couple have been in rescue since April 2014. Danger is a 4 year old male Netherland Dwarf and Daisy is a 3.5 year old female Mini Lop. Both are neutered and vaccinated. They are friendly and love to be stroked.
Want to find out more? Contact:
Acomb Rab Rescue Acomb, York, North Yorkshire
Tel/Text: 07932 593865
Email: acombrabbitrescue@hotmail.co.uk
Website: www.acombrabbitrescue.org.uk
Claudia & Nemo - Hertfordshire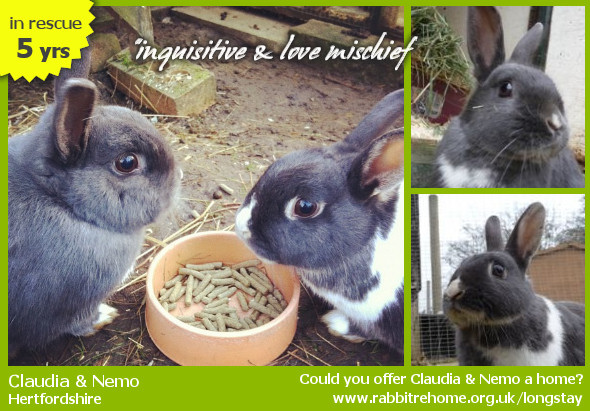 Claudia & Nemo, were abandoned in a cardboard box and have been waiting over five years in rescue for someone to want them. They are netherland dwarf x polish rabbits, so are very small and very active. They'd love a big secure outdoor space with lots of things to play with, investigate and explore. Whilst they aren't super cuddly, they are delightful to watch as they get up to mischief.
Could you be the one to finally offer them a home? Contact:
Rabbit Residence
Great Chishill, Nr Royston, Hertfordshire
Tel: 07904 397378
Email: rabbit_residence@hotmail.com
Website: www.rabbitresidence.org.uk
Bun Jovi - Central Scotland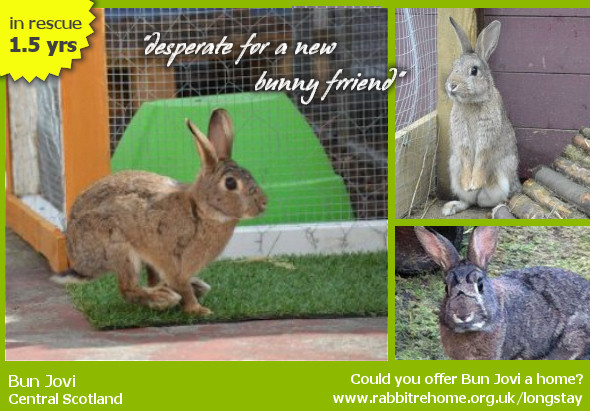 Bun Jovi has been in rescue since July 2013. His brother recently passed away leaving him on his own and he desperately wants a new home with another rabbit for company. He's an active inquisitive rabbit, but takes a bit of time to trust new people.
Do you have a bunny that would like to Bun Jovi? Contact:
Fairly Beloved Rabbit Rescue
Central Scotland
Tel: 0141 280 3272
Email: enquiries@fairlybelovedrabbitcare.org
Website: www.fairlybelovedrabbitcare.org
Belle & Alf - Wiltshire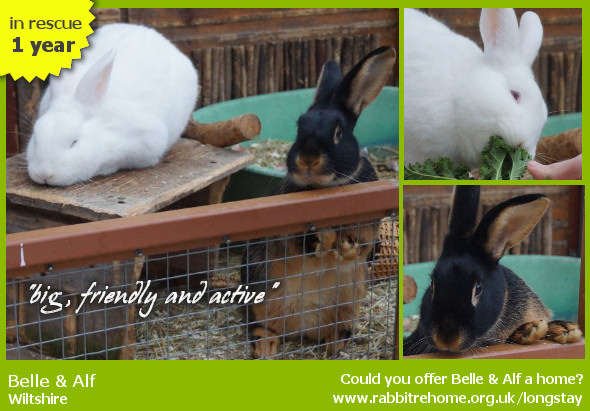 Belle and Alf are both around 18 months old and neutered and they'd like a home together. Belle is a big Belgium Hare and Alf is a large lop so they'll need plenty of room for hopping around. They are both friendly, active and love strokes!
If you could offer Belle & Alf a new home, contact:
Cottontails Rescue
Westbury, Wiltshire
Tel: 01373 864222
Website: www.cottontails-rescue.org.uk
Tyler & Teddy - Surrey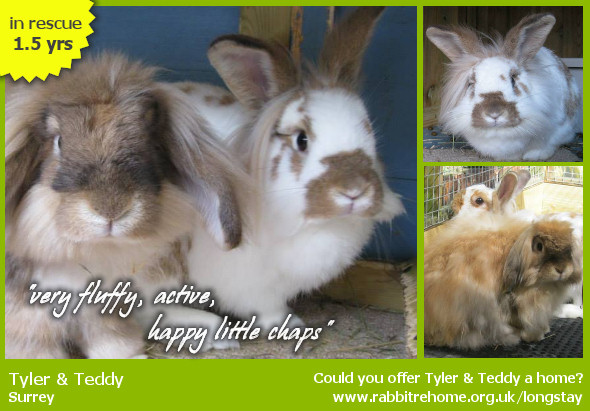 Tyler and Teddy are lionhead cross brothers. Teddy is particular is very fluffy and will need regular grooming and possibly trimming/clipping, particularly in summer. They are happy, active little chaps and could live indoors or out.
If you can offer Teddy & Tyler a home, contact:
The Rabbit Crossing
Windlesham, Surrey
Email: therabbitcrossing@yahoo.co.uk
Facebook: TheRabbitCrossing
Not the right rabbits for you? You can find more long-stay rabbits here: rabbits waiting for homes