The Bunny Camp Newsletter is brought to you by Leeds & Bradford Hopper Group in support of The Bunny Camp Sanctuary, who kindy let it feature on Rabbit Rehome. If you have any queries regarding the newsletter, appeals or rabbits in it please contact them directly not Rabbit Rehome.
The Bunny Camp Sanctuary is based in West Yorkshire. They strive to provide a safe haven for rabbits who, through no fault of their own, end up there because they have been mistreated or neglected, or simply because their owners can no longer look after them.
Editions
2005
2004
Vol 2 Number 12, December 2004
Vol 2 Number 11, November 2004
2003
Vol 1 Number 12, December 2003
Vol 1 Number 11, November 2003
Vol 1 Number 9, September 2003
Bunny Camp Sanctuary Calendar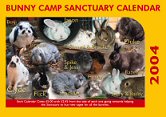 Each Calendar costs £5.00 which £2.45 from the sale of each one going towards helping the sanctuary buy new cages for all the bunnies.
To order send payment to:
The Bunny Camp Sanctuary,
4 Stoney Ridge Avenue,
Heaton Bradford,
BD9 6PA
Tel: 01274 821665
Email: bunnycampsan@talk21.com