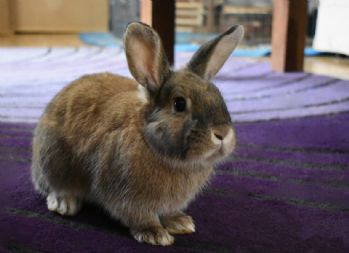 Luna
Age: 3
Breed: Mini Lop
Sex: Female (Neutered)
Location: Derbyshire
Bonded: No
Vaccinated: No
Date Added: 23/11/2021
Last Update: 23/11/2021
More about Luna:
Description: Luna is now 3 years old. Birthday is in October.
She will come with food bowls. The rest of the food she has, a cat litter/hide box she likes and some treats etc. Hay and left over litter absorber.
Once she has gotten used to you she likes fusses and will sit with you.
She has been spayed.
Does get on with other rabbits when they are introduced slowly and properly but she is a dominant rabbit.
Needs lots of room to run around as she is a very active bunny. Cannot be kept in a small 'rabbit' cage.
She's loves a good cardboard tube to chew.
Eats lots of hay.
General health: Great. No health issues.
Temperament: Dominant but loving.
Type of home wanted: Plenty of space to roam.
How to Adopt this Rabbit
Luna is being rehomed by a private individual. For more information please contact:
Sarah635
31 long meadow road
De557pd

Tel: 07397513863
Email: Sarahalice44@hotmail.com
› View all rabbits