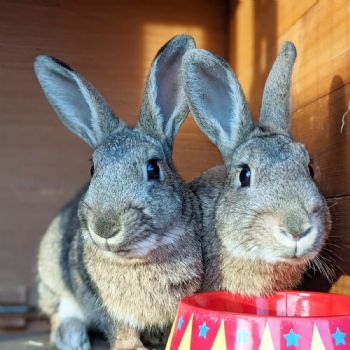 Hazel & Fiver
Age: 1
Breed: Medium
Sex: Female (Neutered)
Location: Cheshire
Bonded: No
Vaccinated: Yes
Date Added: 12/12/2020
Last Update: 10/10/2021
I've been waiting 10 months for a home!
More about Hazel & Fiver :
Meet Hazel & Fiver - with their long legs, big ears, lean bodies and skittish natures we originally thought these two might be wild rabbits, but their cheeky bun natures tell a different story, so we think they probably just have a good portion of wild heritage in their genes. 

Fiver is the most confident of the pair, and you can guarantee he'll be at the front of his enclosure the minute he hears the rustle of a bag of kale! He's nosey and likes to observe everything going on. Hazel can be a bit more reserved until there's broccoli on offer, and then she's your best friend. Both will happily take food from your hand and let you have a little stroke, but they're still not too keen on being picked up.

They are both fantastic hay eaters, and their favourite game is pulling the hay rack over so they can get to the best bits first! They're quite neat and tidy with their litter tray, so could probably be rehomed as either indoor or outdoor bunnies.

They can be a bit skittish and get easily spooked so they would be best suited to an adult / older children environment where they can choose how and when to interact with their humans. They're not large buns but with their athletic bodies they love to run, jump, climb and binky, so they're looking for a home with plenty of space to do this and display all their natural behaviours (minimum 60sq ft floor space, and ideally more).

Hazel and Fiver have both been neutered, microchipped and vaccinated against VHD1, VHD2 and Myxomatosis, and now they're just waiting for their perfect forever home together.
How to Adopt this Rabbit
Hazel & Fiver is being rehomed through a rescue. For more information or to enquire about adoption please contact:
RSPCA Altrincham Cheshire Branch
Cheshire

Tel: 01612862503
Email: rspca.altrincham.cheshire@googlemail.com
Website: http://www.rspca-altrincham-cheshire.org.uk› View all rabbits