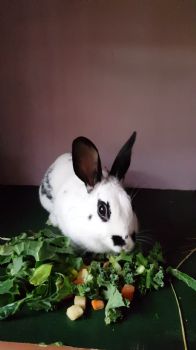 Dani
Age: 1
Breed: English
Sex: Female (Neutered)
Location: Cheshire
Bonded: No
Vaccinated: Yes
Date Added: 16/10/2019
Last Update: 14/01/2020
More about Dani:
Meet our gorgeous girl Dani. Dani is an English spot cross breed bunny, we have guesstimated her age to be around a year old.

Dani came from a home where breeding had got out of control and there were 22 rabbits living in very very dirty cages. Dani was living in  an indoor cage about an inch deep in her own feaces and urine, her cage was stacked on top of another indoor cage full of rabbits!

Dani was absolutely terrified when she first arrived with us she was extremely flighty and would scream and grunt when we touched her. She has always had a nosey inquisitive side and she really does want to be friends. She will now run towards us for her greens and will happy sit infront of you to eat, she's still very nervous of being touched and handled but no longer screams and grunts.

Dani is immaculately litter trained and is a fabulous hay eater.

Dani has been health checked by an exotics specialist vet, she has been neutered, fully vaccinated against myxomatosis vhd1 and vhd2 and is microchipped. 

Dani is looking for a kind and calm home with someone with the time and commitment to win her round. Dani is looking to be bonded with a laid back neutered male rabbit who won't mind Dani being the boss but who will also give her the confidence to be brave.
How to Adopt this Rabbit
Dani is being rehomed through a rescue. For more information or to enquire about adoption please contact:
RSPCA Altrincham Cheshire Branch
Cheshire

Tel: 01612862503
Email: rspca.altrincham.cheshire@googlemail.com
Website: http://www.rspca-altrincham-cheshire.org.uk› View all rabbits