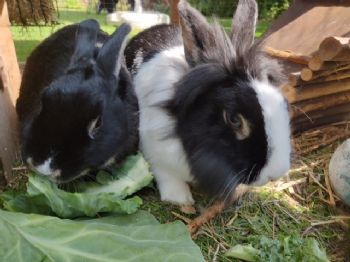 Pickles
Age: 2
Breed: Small
Sex: Female (Neutered)
Location: Middlesex
Bonded: Yes, see below.
Vaccinated: Yes
Date Added: 13/06/2018
Last Update: 16/07/2018
More about Pickles:
Description: Silverfox
General health: good - see below
Temperament: friendly
Type of home wanted: see Patches
Pickles must be rehomed with: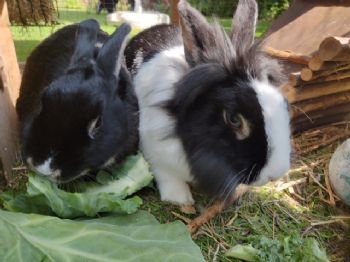 Patches
Age: 2
Breed: Lionhead
Sex: Female (Neutered)
Vaccinated: Yes
Date Added: 13/06/2018
Last Update: 16/07/2018
More Details:
Description: black & white
General health: good - see below.
Temperament: friendly
Type of home wanted: Patches, lionhead female, and Pickles, a silverfox, are a lovely pair of rabbit looking for a new home after being signed over by their owner as she simply had too many to cope with.

Both girls are very bold, confident rabbits who are friendly and easily handled making them ideal for inexperienced owners. They are currently living outside but in the past have also lived as house rabbits so we know they will adapt to a life indoors too.

Patches and Pickles have both had spurs removed on their back teeth, we hope that with a good diet rich in hay they will naturally grind down their teeth in the future and will not require any further work. They are both now enjoying lots of hay something that was slightly lacking in their previous home.
How to Adopt this Rabbit
Patches is being rehomed through a rescue. For more information or to enquire about adoption please contact:
RSPCA Middlesex North West Branch
Middlesex
HA5 1RL

Tel: 020 89669688
Email: info@rspcamiddlesex.org.uk
Website: http://www.rspca-middlesex.org.uk› View all rabbits

Details: For more information on any of the beautiful rabbits or guinea pigs in our care please contact: SARAH or TRACY ON THE NUMBER OR EMAIL ADDRESS ABOVE. Please note we are a local RSPCA Branch working in and around Harrow,North West London, Watford and St Albans. we do not have a rescue centre for you to visit, as all the animals are cared for in private foster homes. If you are interested in any of the rabbits or guinea pigs seen here, arrangements can be made for you to visit them once a successful home visit has been completed.