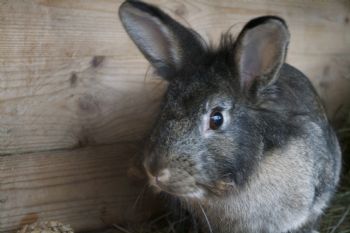 Matilda
Age: 3
Breed: Lionhead
Sex: Female (Neutered)
Location: Nottinghamshire
Bonded: No
Vaccinated: Yes
Date Added: 07/12/2017
Last Update: 07/12/2017
More about Matilda:
Description: Hello my name is Matilda. I am approximately 2 - 3 years old and am an agouti lion head doe.

About Me: I was found as a stray and was held here for a while until someone claimed me. Unfortunately no one has and so I am on the look out for a new home.

General health: I am in good health. I have been neutered and have been vaccinated with VHD-2 vaccine.

Temperament: I am weary of strangers at first and do take time to warm up to people. However, once I am out of my shell I am a confident rabbit who likes to re arrange her furniture in her hutch so it suits her ( or to us humans is a mess). I don't like to be handled much and am not much of a chewer, through I have yet to be tested for digging!

Type of home wanted: I am looking for a home with an similar aged or older male rabbit. I would be more suited as an outdoor rabbit with lots of room to bound about in. I would suit an teenager or above.

How To adopt: If you think you can give Matilda a "furever" home, please contact us using the details below. We ask for a minimal donation of £60 to help cover neutering, vaccination and housing costs. A home check is required.

Suitable Housing: We ask for all hutches to be at least 6ft x 2ft x 2ft as is recommend by the Rabbit Welfare Association and Funding. This should be attached to a run of at least 5ft squared. All hutches must be fox proof and weather proof. House rabbits must have access to their own area to rest in.

We do offer advice on bonding rabbits and, subject to space, can offer a bonding service.
How to Adopt this Rabbit
Matilda is being rehomed through a rescue. For more information or to enquire about adoption please contact:
Brinsley Animal Rescue
Brinsley
Nottinghamshire
NG16 5AX

Tel: 01773 712999
Email: info@brinsleyanimalrescue.org
Website: http://www.brinsleyanimalrescue.org› View all rabbits

Details: Potential adopters are welcome to visit but we ask that you email or ring first as we are based at home and aren't always in. We do carry out home checks for every single animal we rehome. We have a suggested donation of £40 for male rabbits and £45 for females which partly covers our costs of spaying and neutering. We always do home checks and get rabbits to potential homes as soon as possible.