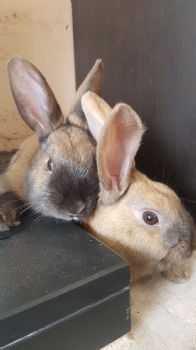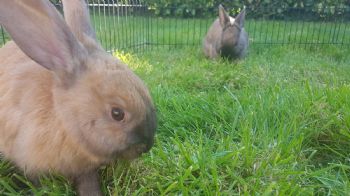 Aspen & Ember
Age: 1
Breed: Medium
Sex: Female (Neutered)
Location: Cheshire
Bonded: No
Vaccinated: Yes
Date Added: 06/12/2017
Last Update: 08/02/2018
More about Aspen & Ember:
Aspen and Ember are sisters and are just over a year old. They have been neutered and vaccinated and microchipped and are looking for a new home together. Here is what their foster mum has to say about them:

The friendliest foster bunnies we have had. I cannot believe they have not found their forever homes yet; they really would make fabulous pets for someone.

These two really are best friends; always by each otherís side and enjoying chasing each other around their run.† They are very happy rabbits and enjoy their playtime together.

As soon as you pass by their hutch they run straight to the side to greet you.† When I open the door to their hutch, they get very excited and canít wait for a bit of a fuss.

They are really easy to pick up as they will come straight to you and really enjoy a stroke.† It is funny when I try to clean out their hutch while they are still in it, they keep coming up and nudging my hand hinting that they want a bit of attention.

They love their food!† They mainly have hay and spring greens which they enjoy but they do love a banana as a treat.† I would say this is their favourite.

I am trying to think of some of their dislikes and I actually canít think of any!† They just love everything.† I really do think that someone would be lucky to have these bunnies in their lives and they will be very much missed when they go to their forever home.


How to Adopt this Rabbit
Aspen & Ember is being rehomed through a rescue. For more information or to enquire about adoption please contact:
RSPCA Altrincham Cheshire Branch
Cheshire

Tel: 01612862503
Email: rspca.altrincham.cheshire@googlemail.com
Website: http://www.rspca-altrincham-cheshire.org.uk› View all rabbits