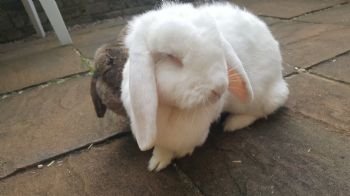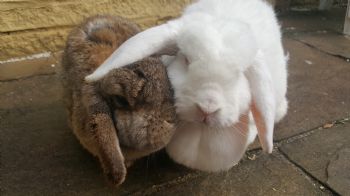 Rosie
Age: 4
Breed: French Lop
Sex: Female (Neutered)
Location: Yorkshire
Bonded: Yes, see below.
Vaccinated: No
Date Added: 17/09/2017
Last Update: 27/09/2017
More about Rosie:
Rosie is a beautiful white bunny, she knows her own mind and is definatly the dominant one of the pair. She was raised indoors however was not as co operative as her buddy Reggie with the potty training. Following the birth of our children Rosie was relocated outdoors with Reggie. She has a lovely temperament and loves a cuddle but she likes to initiate those cuddles.

We would like Rosie to be revoked with her buddy Reggie, ideally a family with older kids who have time to play and love her. Ideally with some grass and indoor space for winter.

Rosie must be rehomed with: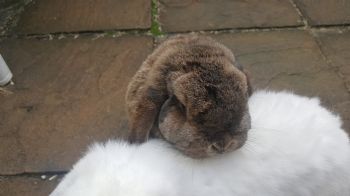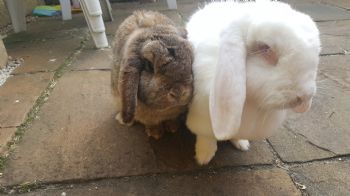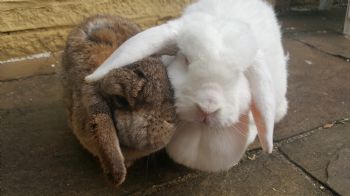 Reggie
Age: 6
Breed: Dwarf Lop
Sex: Male (Neutered)
Vaccinated: No
Date Added: 17/09/2017
Last Update: 27/09/2017
More Details:
Reggie is a beautiful bunny with a fabulous temperament. He was raised an indoor bunny and is fully potty trained. Following the birth of our first child we had to relocate our bunnies outside however we have no grass and no shelter so it's not ideal. Reggie is great with kids and loves a cuddle. He is in good health and has never had any health problems.

We would like Reggie to be rehomed with his buddy rosie so as to minimise disruption to his life. Ideally a family with older children who will play and love Reggie and Rosie like they deserve. Ideally with some grass and indoor space for the winter months.
How to Adopt this Rabbit
Reggie is being rehomed by a private individual. For more information please contact:
Nicola stacey
18 westbourne terrace
HX3 0PQ

Tel: 07496303701
Email: nicola.sladdin1986@hotmail.co.uk
› View all rabbits