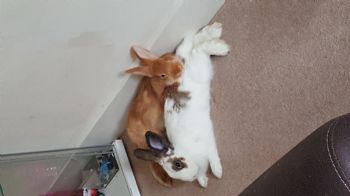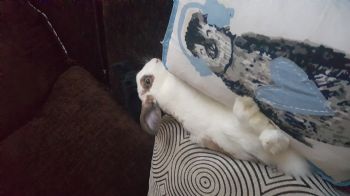 Jacob
Age: < 1
Breed: Medium
Sex: Male (Neutered)
Location: Lancashire
Bonded: Yes, see below.
Vaccinated: No
Date Added: 17/09/2017
Last Update: 17/09/2017
More about Jacob:
Description:
Jacob is a, 9 month old rabbit. He is a cheeky chappy with lots of character! He is a brother to Evie. (from the same litter). Both me and my partner have had them both since 8 weeks old and received them from a rescue society. The reason why we are rehoming them both is due to Jacob recently, over grooming her. Both my partner and myself have implemented several techniques in place I.e (Separating them Both, but being able to see one another. Purchasing a small soft toy and rubbing each other's scent on, as well as plenty of hay and rabbit enrichment.) Unfortunately, both my partner and I work very long days and don't have as much time as we should, to overcome this problem. They are both house rabbits and so their new home should be situated indoors. They both have free range of our apartment so the thought of them both being inside a hutch terrifies us. You will instantly fall in love with our bunnies. They have personality and affection. Both Evie and Jacob will join you on the sofa, whilst watching your favourite TV programme as well as binkying around the house every 5 minutes. We will miss them sorely, but we know that this is the right thing to do for them.
Breed - Unknown. The rabbit rescue centre informed us that mum is a mini lop, but father unknown.
Must be rehomed together! Jacob has no health issues and enjoys his curly kale and pellets for his tea! Jacob is also fully litter trained.
Jacob must be rehomed with: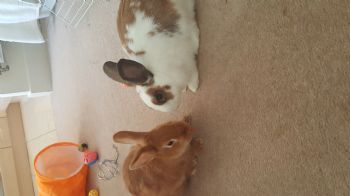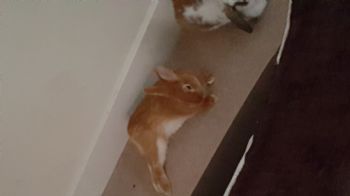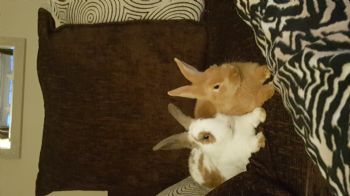 Evie
Age: < 1
Breed: Small
Sex: Female (Neutered)
Vaccinated: No
Date Added: 17/09/2017
Last Update: 17/09/2017
More Details:
Description:
Evie is a beautiful Orange, 9 month old rabbit. She is inquisitive, loving and affectionate. She is a sister to Jacob and loves him dearly (from the same litter). Both me and my partner have had them both since 8 weeks old and received them from a rescue society. The reason why we are rehoming them both is due to Jacob recently, over grooming her. Both my partner and myself have implemented several techniques in place I.e (Separating them Both, but being able to see one another. Purchasing a small soft toy and rubbing each other's scent on, as well as plenty of hay and rabbit enrichment.) Unfortunately, both my partner and I work very long days and don't have as much time as we should, to overcome this problem. They are both house rabbits and so their new home should be situated indoors. They both have free range of our apartment so the thought of them both being inside a hutch terrifies us. You will instantly fall in love with our bunnies. They have personality and affection. Both Evie and Jacob will join you on the sofa, whilst watching your favourite TV programme as well as binkying around the house every 5 minutes. We will miss them sorely, but we know that this is the right thing to do for them.
Breed - Unknown. The rabbit rescue centre informed us that mum is a mini lop, but father unknown.
General health:
Temperament:
Type of home wanted:
General health:
Temperament:
Type of home wanted:
How to Adopt this Rabbit
Evie is being rehomed by a private individual. For more information please contact:
Natalie Collier
4 Ceres Chase
BL4 9EW

Tel: 07518983603
Email: toxicnatalie@hotmail.co.uk
› View all rabbits