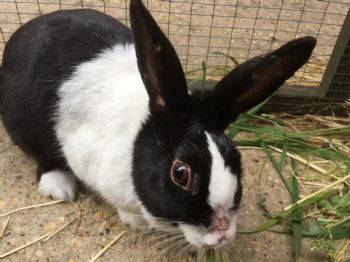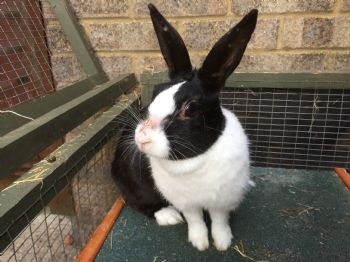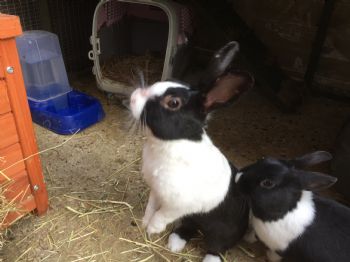 Delilah
Age: 3
Breed: Dutch
Sex: Female (Neutered)
Location: Essex
Bonded: Yes, see below.
Vaccinated: Yes
Date Added: 21/07/2017
Last Update: 23/11/2017
I've been waiting 5 months for a home!
More about Delilah:
Delilah and Pablo are mum and son who are looking for their extremely special forever home. They are an incredibly confident and boisterous pair (especially Delilah) and will be an extremely interactive and entertaining addition to the right home. They have however been through the wars somewhat, leaving Delilah with permanent scarring and a massive thirst for life, so these two need an experienced bunny home with no young children. After all she's been through, I will only let these two go to the most first class of homes where the owner is happy to keep in touch occasionally.

Delilah and Pablo are extremely special bunnies. Delilah came to me last April from another rescue friend, having been rescued from living alone in a vivarium. Not long after she arrived, and while she was on antibiotics to clear up an infection before she could be spayed, she unexpectedly popped out seven babies. Pablo is one of her children and this mum and son pair is to be rehomed together. We do not know Delilah's age but estimate her to be about 3; Pablo was born in April 2016.

Not content with this amount of mayhem, this litter of babies went on to contract new variant rabbit haemorrhagic disease RHD2 last June; one of the babies died but Delilah and the other six survived and have since gone from strength to strength. Poor Delilah subsequently contracted myxomatosis in July last year, even though she had been vaccinated several weeks beforehand. (no doubt the litter and RHD2 had weakened her immune system too much). My vet said that this was the worst case of nodular myxomatosis she had seen in her 20 year career, yet Delilah had a massive will to fight it and live, so we fought with her and eventually, with an awful lot of care and support from my vets, she pulled through.

Delilah has been left with many scars especially around her eyes, ears and nose. She had a massive nodule across the bridge of her nose which stubbornly wouldn't come off; I took her for some acupuncture and after just four sessions, the nodule eventually fell off, leaving a large patch of exposed bone on her nose. It has taken several further months of acupuncture and new bone has grown underneath so the skin has now just about closed over the bone – there is just a tiny mm square area remaining exposed. Because of this history, we do not know how much if any underlying damage has been done to her body, so her long term prognosis may (or may not, we don't know) be limited.

Because of the intensive handling and support while she was sick, Delilah is an extremely tactile bunny who loves to come and say hello and interact with you. She can be, however, extremely unpredictable, and is not averse to nipping your ankles or grabbing your hands from time to time if she feels so inclined. She often does it without prior warning and she properly grips hard, so for this reason she needs an experienced home who can read her body language, don't mind potentially being nipped occasionally and with no young children.

Delilah is extremely boisterous and intelligent and loves to have new things to see and do. She gets bored very easily so her new owners will need to continually think up new and interesting ways to enhance her environment and keep her busy.

Delilah's son Pablo is not quite as forward as his mum! He is a sweet lad but he prefers to be left with his feet on the ground and let his mum take all the attention. Because of the RHD2 when he was little, I was barrier nursing the babies at that crucial time in their development when they need human interaction, so he is happier being watched rather than touched any more than necessary. When he was a baby, he was very boisterous like his mum, and one day he face planted the floor by jumping off a hut that was supposed to be Delilah's safe place away from the babies…In doing so, he seems to have damaged his incisors slightly, and one of them now grows slightly longer and at a bit of an angle. It is regularly monitored and seems to keep itself in check, but it will need regular monitoring in case it suddenly becomes problematic in the future, in which case it might need dental treatment or removal.

Delilah and Pablo really do love each other, they love to lie together and snuggle up, or sit on top of their little hut watching the world. They are looking for a very special home where their new owner/s understand their background and needs and are happy to go the extra mile to meet them. They are active, boisterous rabbits so will need large accommodation. The Rabbit Welfare Association recommends a minimum of 60 square feet of permanently accessible, predator-proof space and this really is an absolute minimum for these two, ideally I'd like to see them go somewhere bigger. These two will need large, full height accommodation where the owner/s can get in with the rabbits and interact with them. A shed and aviary type set up would be ideal, so they can have plenty of cosy indoor space and a large outdoor area to run around. They will need lots of enrichment like hides, things to sit on and in, tunnels and toys, and these will need rotating regularly to keep their environment fresh and stimulating.

Both Delilah and Pablo are neutered and vaccinated with nobivac against myxomatosis and RHD1, and with Filavac against RHD2. Their new owner will need to commit to keeping both these vaccinations up to date for the rest of their lives.

I will be fussier than normal with these two because of their very particular needs, so please only get in contact if you really understand what you are letting yourself in for and are prepared to make a whole heap of extra effort for them. I will home visit to ensure a suitable match between owner, home and accommodation so I can only rehome within a reasonable distance of Essex. I do rehome in my 'spare time' so please be patient if it takes me a few days to get back in touch with you. If you are interested in giving this lovely, if slightly unusual pair, their forever home, then please do get in touch.

Delilah must be rehomed with: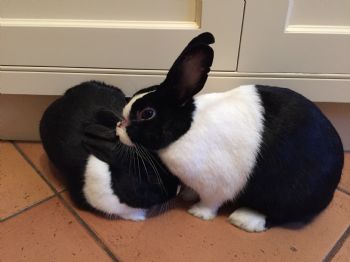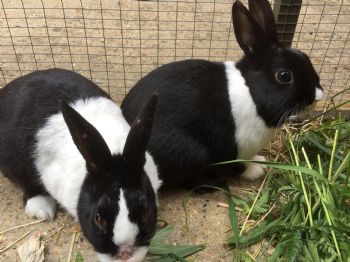 Pablo
Age: 1
Breed: Dutch
Sex: Male (Neutered)
Vaccinated: Yes
Date Added: 21/07/2017
Last Update: 23/11/2017
I've been waiting 5 months for a home!
More Details:
How to Adopt this Rabbit
Pablo is being rehomed through a rescue. For more information or to enquire about adoption please contact:
Alison
Chelmsford

Email: invisabuns@gmail.com
› View all rabbits